Illinois' General Assembly has sent to the governor a proposed law banning use of handheld wireless devices while driving in the state.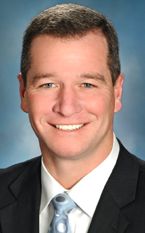 Gov. Pat Quinn is expected to sign off on the ban, said House sponsor Rep. John D'Amico (pictured). With Quinn's signature, the mobile phone law would go into effect Jan. 1.
The measure rewrites Illinois' texting & driving law to add cell phones and other wireless devices. Hands-free operation of cell phones would be allowed.
Fines for driving while using a handheld cell phone would be $75 for a first offense. The second ticket would cost $100, then $125 and then $150.
The first offense would not be classified as a moving offense, meaning it would not figure in insurance premiums, under a change made by the Senate. D'Amico wanted moving-violation status for all offenses, but agreed to the change.
As a longtime leader of the Transportation Commitee, D'Amico has been a key player in pushing through the state's current suite of distracted driving laws, including the ban on wireless device use by teen drivers.
D'Amico, D-Chicago, was able to get a similar bill through the House in 2012, but the bill petered out in the Senate.
The House's final approval of HB 2417 came May 28 with a 69-48 vote, following up on an earlier vote of a similar count. The Senate's endorsement came May 23 in a 34-20 vote.
Sen. John Mulroe, D-Chicago, the Senate sponsor of the handheld cell phone bill, said during debate that vehicle accidents decreased by 17 percent in the Chicago suburb of Evanston after it outlawed driving while using handheld cell phones. Illinois has dozens of local distracted driving laws.
D'Amico has said he hopes the state law ends the confusion brought by so many local ordinances: "You go from town to town, and you don't know what the law is."
The new statewide law would allow single-button activation of cell phones and use of two-way radios.
Criticisms of the plan included concerns that it focuses on electronic distracted driving but ignores other real-life distractions such as eating and wrangling children.
"It just doesn't seem fair to be focusing on one type of behavior, but leaving the other ones," Rep. Jack Franks, D-Marengo, said during debate.
D'Amico, vice chairman of the House Transportation Committee, has said in the past that he would like to see a total ban on cell phone use while driving, but conceded that such a plan would never pass the General Assembly. "And how could you possibly enforce it," he said.
He predicted in 2009 that the state would adopt a handheld cell phone ban.