Anthony Foxx was sworn in as secretary of Transportation and quickly got to work meeting DOT staffers.
Foxx replaces Ray LaHood, whose campaign against distracted driving helped put the issue on the nation's social and political agenda.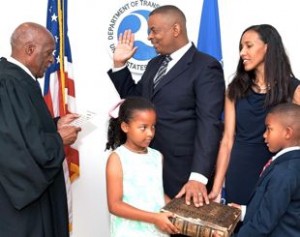 Foxx was mayor of Charlotte, N.C., until Monday. Foxx was confirmed by the Senate in a unanimous vote of June 27.
Foxx cited safety as the top priority at the Department of Transportation. In a hearing, he said the war on distracted driving would go on, as LaHood had "baked that into the DNA" at the DOT. None of the statements attributed to Foxx upon his swearing-in mention distracted driving, however.
Foxx was sworn in July 2, with his children holding a family Bible on which he swore his oath.
Foxx said he would draw on his " 'on the ground' experiences as a mayor, while embracing the tremendous knowledge, skill and ingenuity of the DOT workforce and our many stakeholders."
LaHood said, "I believe my successor will continue this campaign because it's at the top of our list of the safety agenda we've developed here at the Department of Transportation."
LaHood and Foxx both are friends of President Obama. LaHood, a Republican, had asked to be replaced. Obama appointed Foxx, a Democrat, in April. Foxx is a lawyer by trade.
Foxx was widely credited with making major improvements to Charlotte's mass transit and airport services, and faced no opposition on the road to confirmation.
"Anthony knows first-hand that investing in our roads, bridges and transit systems is vital to creating good jobs and ensuring American businesses can grow and compete in a 21st century global economy," said Obama, currently in Africa.
The fast-growing Charlotte has been on a transport mission under Foxx, with an aggressive expansion of its light rail system, new electric streetcars, highway improvements for freight, and runway upgrades at its airport. It is considered a model city for public transportation.
Foxx leads an agency with more than 55,000 employees and a $70 billion budget that oversees air, maritime, and surface transportation.
Foxx appears eager to continue LaHood's outreach via social media. The new DOT chief's Twitter user name is @SecretaryFoxx. Foxx's first Fast Lane blog post went live as he took office.
The president has called LaHood one of the best transportation secretaries in history.
Passed over, apparently, was Debbie Hersman, the chairwoman of the National Transportation Safety Board, who has called for a complete ban on cell phone use while driving. LaHood did not endorse her call for the total ban.
In his final DOT video (below), LaHood looked back on his groundbreaking safety campaign. "We've gotten people's attention," he said in an understatement:
"Four and a half years ago, no one was talking about distracted driving. Now 40 states have passed laws to address the issue of distracted driving. …
"I think people really understand now that when you're behind the wheel of a car, you need to keep both hands on the wheel and both eyes on the road."
Related content:
DOT chief LaHood leaving post
For Ray LaHood, a standing ovation (blog)
Charlotte's Foxx picked as new DOT chief