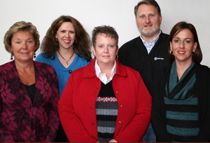 Born of personal tragedies, a group that fights the use of cell phones while driving has been launched with the help of the National Safety Council and the U.S. Department of Transportation.
FocusDriven describes itself as "an advocacy group for victims of motor vehicle crashes involving drivers using cell phones." The founders (pictured) all lost family members to crashes caused by drivers who were distracted by their cell phones.
The group's mission recalls that of Mothers Against Drunk Driving.
They include president Jennifer Smith, who lost her mother to a distracted driver in Oklahoma City. Smith has been a frequent speaker at governmental hearings, including last fall's DIstracted Driver Summit.
Founding director Shelley Forney started her fight against cell phone use and driving after her 9-year-old daughter was killed in Fort Collins, inspiring Colorado's "Erica's Law" legislation. She, too, has been active in testifying as to dangers of cell phone use while driving.
The top of the FocusDriven web site features pictures of the founders' relatives who died in cell phone-caused crashes.
The group was formed, in part, because of the National Safety Council's call for a victim support organization. DOT chief Ray LaHood announced formation of the group on Jan. 12.
"I'm deeply impressed by (the founders') commitment to turn these tragic events into positive actions that will help save lives," LaHood said. "Their stories are not just heartbreaking; they're also a clear and compelling call to action.
"Just as groups like MADD changed attitudes about drunk driving, I believe FocusDriven can help raise awareness and change the way people think about distracted driving."
Victims of cell phone accidents and those seeking to prevent them can interact with FocusDriven on its website.