Seat belt/child restraint legislation (2014)
House Bill 225: Would increase age and specify height of children covered by child-restraint law. Would require child-restraint devices for those 7 years old or younger and also under 4 feet 9 inches in height (57 inches). For those ages 4 though 7 and under 4 feet 9 inches, a "separate carrier" or integrated child seat would be required, as with children age 3 or younger. (Perry)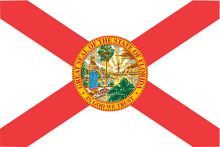 Senate Bill 454: Would require child-restraint devices for those 7 years old or younger and also under 4 feet 9 inches in height (57 inches). Court may dismiss first offense with proof of driver's purchase of child-restraint device. Exempts drivers of for-hire passenger vehicles that accommodate 10 or more people. Provides for six-month advisory period prior to Jan. 1, 2015. (Altman)
SB 518: Same as HB 225, above. (Flores)
SB 518: Same as HB 225, above, and similar to SB 454, above. (Flores)
Seat belt laws: Driver and passengers in front seats must wear seat belts. All passengers under age 18 must wear seat belts, or be secured under child-restraint law. Non-moving violation for driver. Allows for medical exemptions. Read the Florida safety belt statute.
Child-restraint laws: Children 5 years old or younger must be transported in federally approved child-restraint devices. For children 3 years old or younger, restraint device "must be a separate carrier or a vehicle manufacturer's integrated child seat." For children aged 4 and 5, a booster seat, an integrated child seat or a seat belt may be used. No height or weight specifications. Penalties (moving violation) include 3 points vs. driver's license. Points may be waived if a child-restraint safety program is taken by driver. Read the Florida child-restraint statute.
School bus safety seat law: School buses used to transport students in grades pre-K through 12 must be equipped with safety belts or with any other restraint systems, and used by all passengers. Applies to vehicles purchased in 2001 forward. Read the Florida school bus safety seat statute.
2011 safety belt legislation
House Bill 11: Would require child-restraint devices for those 7 years old or younger and also under 4 feet 9 inches in height (57 inches). Died in Transportation & Highway Safety Subcommittee. (Steinberg)
Senate Bill 238: Would require child-restraint devices for those 7 years old or younger and also under 4 feet 9 inches in height (57 inches). Approved by Senate in 32-5 vote of May 5. Withdrawn. (Altman)
2009 safety belt legislation
SB 344 (CS): Upgraded enforcement of safety belt law to "primary." Deleted loophole in seat belt law for extra passengers in front seats of pickup trucks. Signed into law by governor. aka Dori Slosberg and Katie Marchetti Safety Belt Law. (Rich)