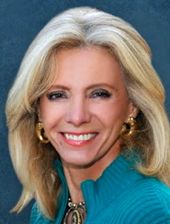 Florida's debate over distracted driving is far from over, even though the Sunshine State finally has a ban on texting while driving.
The new text messaging law, which went into effect Oct. 1, isn't getting much respect from safety experts, survivors groups, the press and some lawmakers, many of whom cite the ban's secondary-enforcement status as weak and ineffectual.
State Sen. Maria Sachs (pictured) used the bully pulpit of day 1 of the texting law to propose an upgrade to primary enforcement, which allows police to stop and cite violators for that reason alone. Secondary enforcement requires another infraction, such as driving too slow or weaving.
Sachs, D-Delray Beach, noted that Florida was among the last states to exhibit some sort of control on texting & driving: "We have always been better than being one of the few states that would have no ban on texting while driving," she said at a news conference in Fort Lauderdale."
It took the better part of a decade for lawmakers to approve a Florida distracted driving law. Two lawmakers from Venice, Sen. Nancy Detert and Rep. Doug Holder, fought for more than five years to get a texting ban past myriad "personal liberty" objections in Tallahassee.
Holder, who had the main 2013 texting bill in the House, says the weak enforcement made the legislation more palatable to resistant lawmakers. Like Detert's successful legislation, his bill called for secondary enforcement.
The Sun Sentinel of South Florida editorialized last May about the texting law's secondary status: "It's unfortunate the ban has a gaping flaw. … But at least it's a start. … In time, Florida will make texting while driving a primary offense."
Rep. Irv Slosberg, D-Boca Raton, already has filed legislation seeking to prohibit use of electronic communications devices by drivers younger than 18 years old. Slosberg is another veteran of the Florida distracted driving law wars. His House Bill 5 for 2014 is a rerun of his HB 61 of 2013.
Sachs, ironically, defeated Ellyn Bogdanoff in a 2012 Senate race. Bogdanoff gained an infamy among state safety advocates for unilaterally derailing distracted driving legislation in 2010, when she was a chairman in the House. Bogdanoff called the legislation "intellectually dishonest" and "just accommodating a sound bite."
"I think now we have new people in the Legislature who reflect more the future of Florida, rather than the background of Florida — who are looking forward," Sachs said at her Oct. 1 announcement.
Most states with secondary enforcement of distracted driving laws have seen momentum toward strengthening the laws, under which police write few citations.
In 2013, Sachs filed legislation seeking to bar the use of handheld communications devices while driving, including cell phones (SB 74). It died a quick death in the Transportation Committee. No legislation targeting cell phone use has been taken seriously in Florida's Legislature.
The Herald-Tribune's political blog noted that Sachs and Slosberg may find the going more difficult than did the texting-law legislators:
Despite the intentions of Sachs and Slosberg, their bids to strengthen Florida's texting-while-driving ban will face a difficult test. Both lawmakers are members of the minority party in the House and Senate, while Detert and Holder are members of the GOP majority and committee chairs and still faced considerable resistance.
Distracted driving (aka careless driving) is the No. 1 cause of fatal traffic accidents in Sach's district of Broward County, state numbers show.
Fines for first offenses are $30. Subsequent offenses (within five years) bring $60 fines and 3 points vs. the driver's license. Text messaging in a school zone brings 2 points. Causing a crash while illegally using a handheld communications device will result in 6 points. The law allows texting while driving if the vehicle is stopped in traffic, which critics say is a loophole.