Last updated: July 16, 2015
Florida finally has a texting and driving ban. The state's governor signed the successful 2013 distracted driving legislation into law. It takes effect Oct. 1.
"This is going to save lives. This is going to make sure our teenagers are safe while driving — that they're not distracted while driving," Gov. Rick Scott said at a May 28 ceremony in Tallahassee.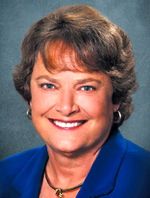 Florida was one of the few remaining states without any distracted driving laws. It becomes the 41st state to ban text messaging while driving, following Hawaii.
The legislation came after years of resistance in the Florida Legislature, most of it along the personal freedoms line.
The sponsor of the successful Senate Bill 52, Nancy Detert (pictured), made four tries to get a distracted driving bill through. Her ally in the House, Rep. Doug Holder, tried five times. Both are Republicans from the Gulf Coast city of Venice.
"It's been a very frustrating long trip from beginning to end," Detert said as her bill struggled through its final challenges in the Legislature.
Florida lawmakers likely haven't seen the last of distracted driving legislation. Critics of the Detert bill included those who said it was too watered down to make much of a difference. The law calls only for secondary enforcement, which means police will need to see another violation before stopping a driver who is text messaging. It also allows texting while driving if the vehicle is stopped in traffic.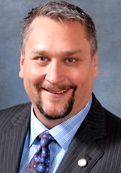 Holder (right) said the secondary enforcement provision was adopted in order to get the plan past resistant lawmakers.
Florida also has no restrictions on the use of cell phones by motorists.
"As a father and a grandfather, texting while driving is something that concerns me when my loved ones are on the road," Scott said. He cited the timing of enacting the law: "The 100 days between Memorial Day and Labor Day are known as the deadliest days on the road for teenagers."
Florida's new distracted driving law, however, does not go into effect until the new school year, on Oct. 1.
Fines for first offenses will be $30. Subsequent offenses (within five years) bring $60 fines and 3 points vs. the driver's license. Text messaging in a school zone brings 2 points. Causing a crash while illegally using a handheld communications device will result in 6 points.
Read more about the history of the new Florida texting law.