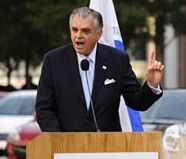 President Obama has ordered federal employees to stop text messaging while driving on the job.
The news was announced Thursday by Department of Transportation Secretary Ray LaHood, left, as he spoke on the final day of the DOT's distracted driving summit.
"Text messaging causes drivers to take their eyes off the road and at least one hand off the steering wheel, endangering both themselves and others," the president said as he signed the three-page executive order.
The ban did not include limits on drivers talking on handheld cell phones, echoing the year's trend in state legislatures.
The ban is identical to the one that went into effect several weeks ago at the National Transportation Safety Board.
Federal employees are prohibited from texting while driving government-owned vehicles or cell phones, or while conducting U.S. business while in their personal cars, or while using federal cell phones.
"This meeting is probably the most important meeting in the history of the Department of Transportation," LaHood told the conference audience of safety experts, legislators, telcom execs and family members of those killed by texters.
The ban on text messaging by federal staffers is now in effect. The president signed the order Wednesday night, the New York Times reported.
Sure to be much more controversial is a forthcoming ban on interstate truckers and bus drivers. The New York Times also reported Thursday on the phenomenon of cars used as offices, as well as truckers and the computers that they use in their cabs.