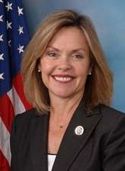 States that don't ban cell phone use by drivers in school zones would lose federal funding under a bill proposed by Colorado congresswoman Betsy Markey.
"Erica's Law" is named after 9-year-old Erica Forney, who was killed by a driver using a cell phone. The girl was biking home after school. Erica lived in Markey's district of Fort Collins.
Several bills are pending in Congress that would tie distracted driving laws and federal highway funding, including one sponsored by West Virginia's Sen. Jay Rockefeller.
Colorado's ban on text messaging went into effect in December. A hands-free provision was stripped from the legislation (HB 1094) before passage, however. The law also prohibits drivers under 18 from using any kind of cell phone. Gov. Bill Ritter signed the text-messaging ban in Fort Collins as a reminder of Erica.
"When any of us get behind the wheel of a car, driving safely and responsibly must be our number one priority," said Markey, a Democrat. "Having seen the tragedy of distracted driving strike so close to home in my own community and as a mother of three, it is the responsibility of all Americans to help safeguard our children, and there's no better place to start than in our neighborhoods' school zones. …
"Studies show that distracted driving is just as dangerous as drunk driving," Markey added.
Erica Forney's mother, Shelley, said she communicated with Markey on the bill, which is "phenomenal."
Markey recently pushed through the congressional designation of April as Distracted Driving Awareness month. She also hosted a distracted driving summit in Fort Collins on March 27.