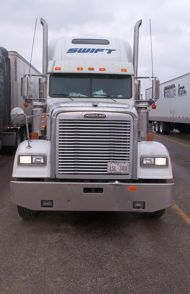 The federal Department of Transportation wants commercial drivers to shut up and drive.
The DOT released a plan Dec. 17 that would ban handheld cell phone use by interstate truckers and bus drivers.
"Every time a commercial truck or bus driver takes his or her eyes off the road to use a cell phone, even for a few seconds, the driver places everyone around them at risk," said U.S. Transportation Secretary Ray LaHood. "This proposed rule will go a long way toward keeping a driver's full attention focused on the road."
The DOT cannot tell states how to regulate their roadways — or outright ban electronic distracted driving — but it has authority over safety practices on interstate commercial vehicles. In this case, up to 4 million instate commercial drivers would be affected.
Use of a handheld cell phone while driving will cost a commercial driver up to $2,750 for each offense and possible revocation of their driver's license (CDL) for repeated offenses. The motor carrier companies could be fined up to $11,000. Use of hands-free accessories would be allowed.
Text messaging already is banned by the Federal Motor Carrier Safety Administration (as of October).
The proposed FMCSA rule on cell phone use has entered a two-month comment period.
"Implementation of this proposal would help make our roads safer and target a leading cause of distracted driving," said FMCSA chief Anne Ferro.
A long list of companies already has prohibited its drivers from cell phoning while on the road, the DOT noted, including UPS and Wal-Mart.
The trucking industry has been carefully watching any efforts to limit technology in its big rigs.
"We get that the trucking biz is hard," DOT chief Ray LaHood said of the texting ban for interstate drivers. "We're just trying to save lives."