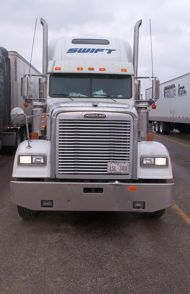 The nation's interim ban on text messaging by truckers is on the road to becoming permanent.
The U.S. Department of Transportation announced Wednesday that it had officially proposed the rule and was entering a 30-day comment period.
"We get that the trucking biz is hard," DOT chief Ray LaHood tweeted after the announcement. "We're just trying to save lives."
The rule applies to interstate truckers and bus drivers whose vehicles weigh more than 10,000 pounds. Violators would face fines and possible disqualification from commercial trucking. The interim ban was based on interpretation of existing regulations.
A Virginia Tech Transportation Institute study from last summer found that the truckers who were texting were 23 times more likely to get in a wreck. The DOT helped pay for the texting and trucking study.
Federal Motor Carrier Safety Administration chief Anne Ferro said: "We are committed to using every resource available to eliminate the dangers of distracted driving. And this rule-making to prohibit texting by interstate commercial truck and bus drivers reinforces that commitment."
The trucking industry has been carefully watching any efforts to limit technology in its big rigs, but appears to support this action. The DOT rule would not prohibit talking on cell phones, or using devices like GPS or in-cab fleet management systems. The FMCSA said it "plans to address these distractions in future rulemakings."
One of the highest-profile tragedies involving a tractor-trailer came on Florida's infamous "Bloody 27" highway, heavily used by truckers. Heather Hurd, 27, was killed by a trucker who was fumbling for his text messaging device as he slammed into her vehicle, which was stopped at a red light. Her fiance was seriously injured and another woman died as well. The fatality inspired Heather's Law, which is back before the Florida Senate this year as SB 244.
The DOT signaled its intention to pursue the interstate ban on text messaging at last fall's Distracted Driving Summit.
The DOT unveiled a new web site for comments on regulations, which in this case will be accepted until May 3.