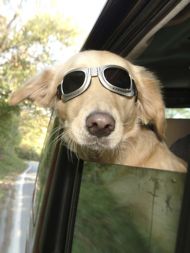 Doggie distractions: AAA just updated its poll on pet owners who drive with their dogs in the vehicle. Once again, the survey found the pet owners fessing up to their potentially dangerous behaviors.
About 6 of 10 drivers who own dogs reported that they bring their canines along on car trips. About a quarter of the respondents said they use their hands or arms to restrain the dog while braking.
Almost 20 percent of the drivers said they reach into the back seat to interact with the dog, while 17 percent of the drivers allow their pets to sit their laps.
"83 percent of respondents acknowledge that an unrestrained dog in a moving car can be dangerous, but only 16 percent currently use a pet restraint," the survey found.
The leading reason for not using a restraint was the owner felt the dog was calm and did not need restraining. AAA warned that in a crash, unrestrained dogs (calm or not) are flying objects, capable of doing great damage to themselves and to anyone in their way.
Education could be key. The AAA survey found that use of a restraint is three times greater with drivers who knew about cases in which unrestrained dogs were injured or caused injury to other passengers in a car crash (32 percent) compared with respondents who were not aware of such a situation but still used a restraint (9 percent).
The co-sponsor was Kuro, which (conveniently) sells pet-restraint services.
The online study was conducted using a sample of 1,000 dog owners who have driven with their dog in past year. A similar survey was released in 2010.