Last updated: December 18, 2017
Distracted driving news: Distracted driving ticketing in the Washington, D.C., area has soared in the past year, local media report. The number of distracted-related crashes in 2017 also is up as of late August, the report said. NBC channel 4 reporters found spikes in ticketing by Maryland State Police and in Montgomery and Fairfax counties. Many of the violations occurred in school zones, the report said.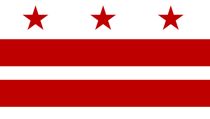 An advisory panel urged District of Columbia lawmakers to consider a full ban on cell phone use while driving. "Based on the current state of science, it is time to consider banning all phone use by drivers," David Cranor of the D.C. Bicycle Advisory Council told the City Council transportation committee Dec. 8, 2015. He noted that the district — a pioneer in distracted driving lawmaking — would be "breaking new territory" with a ban on handheld and hands-free cell phone use. (View hearing video)
Using a handheld cell phone while driving in the District of Columbia can result in a $100 ticket.
Current prohibitions:
Drivers using cell phones must use hands-free devices. Police say this law covers text messaging while driving.
Drivers with learner's permits prohibited from using all cell phones.
School bus operators prohibited from using cell phones while driving.
Distracted driving notes (2016): The District of Columbia Council voted in favor of a bill that would hike penalties for repeat offenses of electronic distracted driving. Drivers could see their licenses suspended after multiple violations. Fines: $100, then $150, then $200. The council's Oct. 11, 2016, vote must be repeated in November for the bill to become law. The plan originally sought higher fines, points and suspensions of vehicle registrations for the worst offenders. Critics have pointed out the plan targets repeat offenders, while the overwhelming majority of tickets go to first-time offenders, who would not see an increase in fines.
Distracted driving legislation (2015):
B21-0021: Would increase penalties for repeat offenses of electronic distracted driving. First offense: $100 (current). Second offense (within 18 months) $150. Third offense and thereafter $200 and suspension of license and vehicle registrations for 60 to 180 days. Points vs. driver's license with serial offenses. OK'd by the Committee on Transportation and the Environment on Oct. 3, 2016. Approved by the D.C. Council on Oct. 12. (Mendelson)
Distracted driving notes:
A plan approved by the D.C. City Council in October 2016 would crack down on repeat offenders of the distracted driving law if the vote is confirmed in November. Council Chairman Phil Mendelson's legislation would leave first offenses at a $100 fine, but for serial offenders would increase to $150 and then $200 — plus the loss of license. (The bill originally sought fines of up to $400 plus points.) "It's a danger to all of us," Mendelson says of texting and handheld cell phone use.
About 5,500 distracted driving tickets were handed out by Washington, D.C., law officers in 2014. That's down from 14,000 in 2010. AAA Mid-Atlantic says the District averages about 7,000 distracted driving tickets a year, but few are issued to repeat offenders.
U.S. Capitol police wrote more than 440 distracted driving tickets in a three-year period as of October 2014. A congressional staffer was killed in a crosswalk several years ago. A local TV report found that many drivers were taking pictures of the Capitol building while driving through the Capitol Hill neighborhood.
Looks like drivers in the nation's capital are committing cell phone and text messaging infractions at a record pace. Metropolitan Police wrote 11,868 tickets in 2010. That's up 24 percent over the year before and ties the Washington, D.C., record for distracted driving tickets set two years ago.
Police in nearby Fairfax County, Va., ticketed more than 9,000 people for inattentive driving during 2010. That's a 24 percent jump from 2010's numbers.
A Washington Post poll published April 4, 2010, found that 80 percent of "area" adults said they often see distracted driving on the road. About a quarter of those surveyed said they text message, email or surf the Net while driving. "Almost everyone in the poll reported seeing area drivers frequently clutching cellphones, and nearly three-quarters regularly observe drivers typing on mobile devices," the Post said.
Enforcement of the hands-free cell phone law began in summer 2004. Between 2004 and 2008, more than 42,000 tickets were written with $4 million in fines collected.
D.C. police reported writing about 7,500 tickets in 2005. In 2006, more than 8,300 tickets were issued. In 2007, citations neared 10,000. In 2008, almost 12,000 tickets were issued for cell phone-related traffic violations. Tickets are running at an all-time high in 2010.
In 2009, a "reconsideration" of the distracted driving laws was sought by Ward 2 D.C. Council member Jack Evans. A resident has Tweeted a photo that allegedy shows Evans driving and using a handheld cell phone, reporting that the councilman almost hit his vehicle.