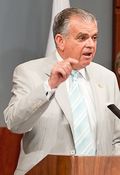 The second Distracted Driving Summit will devote several hours to using the media to combat text messaging and handheld cell phone use by motorists.
Attendees at the one-day session on Sept. 21 will hear presentations on the topics "Social Media: Reaching the Younger Generation and Beyond," "Public Service Ads: What Does and Does Not Work," "Communications and Media," "Marketing/Advertising Using Traditional Media" and "Media Relations/Earned Media."
In keeping with the media outreach theme, the 2010 Distracted Driving Summit will be webcast live from Washington at distraction.gov.
"One year after our first national Distracted Driving Summit, we will reconvene to take stock of our progress and reassess the challenges and opportunities that lie ahead," said U.S. Transportation Secretary Ray LaHood, who will deliver the opening and closing remarks.
The first panel session, "A Year of Action" will look at the considerable progress made in the past 12 months by those seeking an end to handheld cell phone use and text messaging while driving. Moderating is Janet Froetscher, president of the National Safety Council.
"Addressing Distracted Driving Across the Modes of Transportation" goes beyond the teens and commuters that are often the focus of safety campaigns. John Porcari, deputy secretary at the DOT, delivers the update.
Following up is "Confronting the Distracted Driving Challenge Moving Forward," with segments on employers and commercial carriers, technology and legislation.
Jennifer Smith of the activist group FocusDriven will speak before LaHood's wrap. Smith, who lost her mother in a distracted driving crash, has been working closely with the DOT.
Questions for the panelists may be emailed in advance to DDSummit@dot.gov. Anyone can ask.
View the complete agenda for the 2010 Distracted Driving Summit.