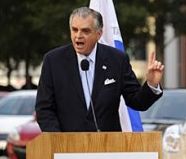 "I'm on a rampage about this, and I'm not going to let up," U.S. Transportation Secretary Ray LaHood says of the dangerous practice of text messaging while driving.
Rampage on, Ray.
LaHood's comments were reported Jan. 3 in a New York Times article, "Bills to Curb Distracted Driving Gain Momentum." The article adds nothing new to the conversation about distracted driving, but contains a few items of interest.
"Proposals (to curb distracted driving) are being met with less resistance than in years past from legislators, and are enjoying newfound industry support," the article says. Reporter Matt Richtel says 200 bills have been filed regarding distracted driving, but doesn't specify a time frame.
"People are starting to see it like drunk driving, and that's the comparison we need to continue to make," said Steve Farley, an Arizona state representative from Tucson.
Of critics of distracted driving legislation, Farley said: "They will always believe this is an issue of personal freedom. They don't take into account the loss of freedom when a texting driver runs into someone and kills them."
The New York Times deserves credit for the distracted driving stories it has been cranking out over the past year. At least in bulk, the Times clearly is in the lead in mainstream media coverage of the issue — even if the stories are mostly recycled news.