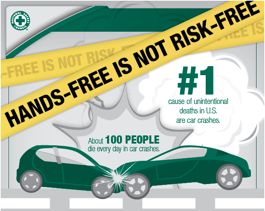 April is Distracted Driving Awareness Month, entering its fourth year. As with past years, it's an event without an official sponsor, but law agencies are taking the opportunity to crack down on distracted drivers.
Distracted driving sweeps and educational campaigns were announced in several major states, including California, Wisconsin and Tennessee.
In California, for instance, four days — April 3, 8, 17 and 22 — have been earmarked for distracted driving sweeps. "The increased enforcement aims to persuade drivers to recognize the dangers of distracted driving and reduce the number of people impacted by this perilous behavior," the state Highway Patrol said.
"Law enforcement agencies will be out in full force to help remind drivers to put down their cell phones and maintain their focus on the roads," said the California Office of Traffic Safety's acting director, Russia Chavis. In April 2013, state law officers wrote more than 57,000 tickets for handheld cell phone use or texting.
In Tennessee, the Governor's Highway Safety Office said it would be focusing this month on texting, "by far the most alarming distraction."
The National Safety Council took the occasion to promote the idea that "hands-free is not risk-free." It calls multitasking "the big fat myth."
Probably not coincidentally, the NSC's new leader is Deborah Hersman, the former chairman of the National Transportation Safety Board. Hersman called for a complete ban on cell phone use while driving during her NTSB term, a position not supported by Ray LaHood, the federal DOT chief known for his leadership on the distracted driving front.
LaHood's successor, Anthony Foxx, made no mention of Distracted Driving Awareness Month on his DOT blog.
Former U.S. Rep. Betsy Markey made the Distracted Driving Awareness Month designation official in 2010, with the help of the victims and survivors group FocusDriven. The first Distracted Driving Awareness Month was in 2011.
The original congressional resolution encouraged "all people in the United States to consider the lives of others on the road and avoid distracted driving." Markey's resolution invoked the name of 9-year-old Erica Forney of Fort Collins, Colo., who was struck and killed by a distracted driver in 2008.