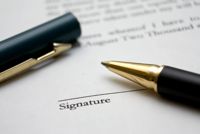 Distracted driving legislation found favor with the governors of Georgia, Connecticut, Vermont and Kansas in recent days.
In Georgia, it was drama on deadline for the text messaging and cell phone bills approved by the Legislature. The governor threatened vetoes, citing enforcement issues. "None of this business is black and white," Gov. Sonny Perdue said.
Safety advocates, lawmakers and students lobbied furiously in the final days of the legislative session for Perdue to sign the bills, which he did with no time to spare.
Georgia's new distracted driving laws take effect July 1. Text messaging will be banned for all drivers. Drivers under the age of 18 are prohibited from using cell phones, regardless of whether a hands-free device is attached. Young drivers also are banned from using laptop computers and portable games. Violations will cost motorists $150.
No such problems in Connecticut, where Gov. Jodie Rell approved her own plan to toughen existing distracted driving laws. This ends the previous law's policy of forgiveness for some first-time offenders.
Connecticut had already outlawed text messaging while driving, handheld cell phone use by adults and all cell phone use by teenage drivers. Fines for violations now increase to $100 (first offense), then $150 and $200 instead of the current $100. Also, the law's wording specifically bans texting while driving, reportedly not clear before.
In Vermont, Gov. James Douglas signed into law a ban on text messaging and on cell phone use for drivers under 18. Fines start out at $100 for first offenders and then escalate to $250. The laws are effective immediately.
In Kansas, a ban on text messaging while driving has been signed into law by Gov. Mark Parkinson. The ban goes into effect Jan. 1.
On the local front, Clemson, S.C.; Missouri City, Texas; and Belpre, Ohio, are the latest cities to ban texting.