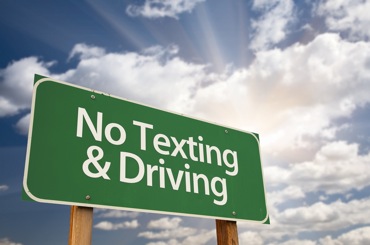 The debate over distracted driving burned hotter than ever as 2011 ended, thanks to a controversial call for a total ban of cell phone use while behind the wheel.
The year saw significant progress in the legislative war on against distracted driving.
While some state laws prohibiting use of handheld cell phones took effect, most of the success came with bans of text messaging while driving.
Here's a recap of the big distracted driving stories of 2011:
New year, new laws (Jan. 1-2): Three states — Delaware, Kentucky and Kansas — see their new distracted driving laws take full effect as 2011 arrives.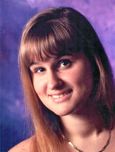 Remembering Heather (Jan. 5): A stretch of Florida's U.S. 27 is named in the memory of texting & driving driving victim Heather Hurd. State lawmakers then spend the rest of the year ignoring "Heather's Law" and related distracted driving legislation. The Department of Transportation features Hurd and other victims in a its new Faces of Distracted Driving series.
Multimedia cars on parade (Jan. 8): The big Consumer Electronics Show confirms that automakers are quickening the pace toward making vehicles hubs of electronic information and entertainment. Toyota and Hyundai unveiled new wireless communications and data systems. Ford rolled out an electric car, with "wireless-connected vehicle services." GM's OnStar plugged its app that reads text messages and checks for Facebook updates.
N.Y. makes 2 points (Feb. 11): New York's DMV assesses 2 points against the driver's license of handheld cell phone violators. The points already were being charged against text messaging drivers. The governor thinks that's still not enough of a deterrent and takes action in the summer.
April's the month: Distracted Driving Awareness Month debuts with the support of safety advocates, law enforcement agencies and the U.S. DOT. Former U.S. Rep. Betsy Markey helped make the designation official last year.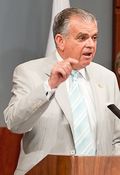 Distracted summit sequel (April 21): "I can't think of another safety issue in American history that's gained so much traction in such a short period of time," Transportation Secretary Ray LaHood tells the Illinois Distracted Driving Summit. LaHood, left, cites "tremendous grassroots groundswell against distracted driving."
No. 31, North Dakota (April 26): Gov. Jack Dalrymple approves legislation that bans all texting while driving. He also OKs a ban on electronic communications device use by teen drivers. North Dakota became the 31st state to ban text messaging while behind the wheel.
No. 32, Indiana (May 11): Gov. Mitch Daniels enacts a law banning text messaging while driving, with fines up to $500. The new law essentially expands the state statute against teen texting to all drivers, with primary enforcement. Indiana became the 32nd state to outlaw texting & driving.

Ticket swarm in Golden State (April): In California, what is called the nation's largest campaign against distracted driving results in more than 53,000 citations during April. The "zero tolerance" sweep involves 103 CHP offices, and more than 280 local and regional law enforcement agencies.
No. 33, Maine (June 3): Gov. Paul LePage OKs safety legislation that specifically bans texting while driving as a primary offense. A general distracted driving law went into effect in 2009, but its author Sen. Bill Diamond returned with the new texting measure that "deals better with the cause of the problem." Maine became the 33rd state to ban texting while driving.
"Intrusion" in Texas (June 17): Gov. Rick Perry vetoes safety legislation that would have banned texting while driving in Texas. He calls House Bill 242 an "intrusion" and a "government effort to micromanage the behavior of adults." A month later, the Republican announces he's running for president.
No. 34, Nevada: Gov. Brian Sandoval signs off on legislation banning handheld cell phone use and text messaging for all drivers. Fines are $50 then $100 and then $250. Maine became the 34th state to ban texting & driving.
N.Y. gets tougher (July 12): Gov. Andrew Cuomo signs into law a plan to make texting while driving a primary offense. He immediately follows up the action by ordering the DMV to assess a third point against the drivers licenses of texting and handheld cell phone violators. Use of handheld cell phones already carried primary status in New York.

Smith exits (July 13): Jennifer Smith, the high-profile president of FocusDriven, steps down from her post at the the distracted driving victims advocacy group. She's no longer listed as a board member.
Brown-out (Sept. 6): California Gov. Jerry Brown vetoes a plan to double fines for distracted driving violations, saying he was not interested in overburdening "people of ordinary means." Senate Bill 28 also would have applied the ban on hands-free electronic device use to bicyclists. State Sen. Joe Simitian says the veto of his bill results in "a lost opportunity to save more lives."
No. 35, Pennsylvania (Nov. 9): Gov. Tom Corbett signs off on legislation that bans texting while behind the wheel. The original Senate bill called for a ban on handheld cell phone use as well, but the provision was removed by House Republican leaders. Pennsylvania became the 35th state to outlaw texting while behind the wheel. The law takes effect in March 2012. Enforcement is primary, with $50 fines.
Two-handed truckers (Nov. 23): Interstate truck drivers who use handheld cell phones face fines of up to $2,750 under a final rule issued by the DOT. After two violations of the rule, drivers would lose their licenses at the state level. The handheld device ban also applies to bus drivers. The ban affects about 4 million commercial drivers.

"Distraction-affected crashes" (Dec. 8): The NHTSA changes its way of tracking distracted driving accidents, resulting in a significantly lower number of deaths reported for 2010. The National Highway Traffic Safety Administration dubs the revamped category "distraction-affected crashes," with the focus on cell phone use and text messaging. The result: 3,092 people died in distracted driving incidents, down significantly from 2009's 5,474 fatalities. The DOT says the lower number doesn't indicate progress: "All of our evidence suggests that the problem may actually be getting worse."
NTSB seeks total ban (Dec. 13-21): Saying, "It is time for all of us to stand up for safety by turning off electronic devices when driving," the National Transportation Safety Board calls for a nationwide ban on drivers' use of portable handheld electronic devices. A week later, DOT chief Ray LaHood publicly distances himself from the NTSB plan, saying, "The problem is not hands-free (use of electronic devices)." The year ends with massive media coverage of the issue.
Read the full stories in Hands Free Info's Distracted Driving News section.
Copyright 2011 Glenn Abel.