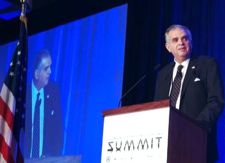 The good news is good indeed: In 2010, U.S. traffic fatalities and injuries reached their lowest numbers since 1949.
Another reason for optimism, it might seem: 3,092 people died in accidents connected with distracted driving, down significantly from 2009's 5,474 fatalities.
But the bad news lurks in the detail, as the National Highway Traffic Safety Administration changed its method of tracking distracted driving accidents.
"All of our evidence suggests that the problem may actually be getting worse," says federal DOT chief Ray LaHood (pictured). The explanation: "We've narrowed the potential distractions included" in order to more accurately report on major distracted behaviors.
The new tracking category is called "distraction-affected crashes." The indicator was introduced for 2010's report in order to focus on activities such as dialing a mobile phone or sending texts while driving, LaHood wrote on his DOT blog, Fast Lane.
LaHood also took care to point out that the number of distracted driving reports is limited by the need in many cases for drivers to self-report their unsafe behavior. The DOT chief, no doubt, is bracing for attacks by critics of distracted driving prohibitions, some of whom will use the lower number of deaths to argue that the problem is not significant.
The 2010 number for overall fatalities was 32,885, the NHTSA numbers show. The decline in U.S. roadway deaths from 2009 was almost 3 percent. About 2.24 million were injured, down slightly from '09.