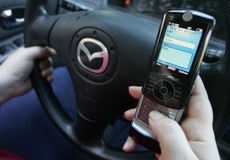 Texting while driving is illegal in Colorado and North Carolina, as of now.
The North Carolina ban prohibits all drivers from text messaging and emailing. The law calls for a $100 fine plus court costs, but no points for the infractions.
The legislation was signed by Gov. Bev Perdue in mid-June.
About two-thirds of North Carolina adults reportedly approve of bans on use of cell phones while driving, but legislation outlawing motorists' use of handheld cell phones was put on hold in 2009 after a poor reception in the Commerce Committee.
Violations by school bus drivers will be treated as misdemeanors with fines "no less than" $100.
Fines for violating Colorado's new texting law are $50 for the first offense and $100 thereafter. Violations of the law are primary offenses.
Drivers under 18 also are prohibited from using cell phones as well as text messaging.
Colorado's ban started out as legislation that would have also prohibited the use of handheld cell phones. The bill was approved by the House after wrenching testimony from a mother who lost her 9-year-old to a cell phone-related accident. The legislation, however, was watered down in the Senate to include only bans on text messaging and cell phoning by teen drivers.
The weakened legislation was signed by Gov. Bill Ritter on June 1, 2009, and went into effect six months later. Ritter signed the text-messaging ban in Fort Collins, home of 9-year-old Erica Forney, who was killed by a texting driver.
"The convenience of having a cell phone in a car is not worth my daughter's life," Erica's mother told legislators.
Police and sheriff's deputies in both states have expressed concerns over enforcing the text messaging bans, with the sheriff of Boulder, Colo., flat out saying he would not tell officers to pull over violators. Denver's police department said it would be enforcing the law.