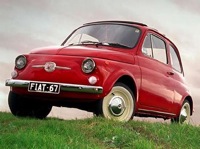 Colorado Republicans put the knife in a hands-free cell phone ban on Monday, reportedly after a long bashing of Sen. Bob Bacon's bill.
The Senate did pass an amended HB 1094 with a ban on text messaging and a prohibition of cell phone use by drivers under 18.
(Update: The watered-down legislation was signed by Gov. Bill Ritter on June 1, 2009.)
The Colorado Spring Gazette had this choice quote from Sen. Keith King, R-Colorado Springs, who wondered why the "ridiculous" bill only banned handheld cell phones while the vehicle was in motion:
"At every stoplight, watch from now on, if we pass this bill. Everybody's going to get out and do all their texting at every stoplight," King said.
Would that be a Colorado fire drill?
Another astute query, this time from Sen. Dave Schultheis, R-Colorado Springs, who wanted to know why police and commercial truck drivers would be exempted from the handheld cell phone ban:
"If a person in a little Fiat is on a cell phone, whose car weighs a couple thousand pounds, somehow that's supposedly more dangerous than a person with a 10,000-pound vehicle? What's with that?"
Ummm … because police and truckers are professional drivers who routinely communicate in emergency situations?
At least these Republicans' arguments are more entertaining than the usual: Why don't we just ban coffee drinking and petting poodles while driving.
Bacon figures he'll have a better chance next year, as Colorado's cell phone-related death count continues.
Get Hands Free Info via rss or email, or follow HandsFreeInfo on Twitter.