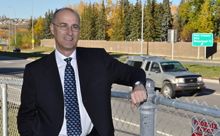 The distracted driving debate rarely comes down to money, but a Canadian study finds that a ban on cell phones can have economic benefits in addition to saving lives.
The University of Calgary's Faculty of Medicine says its home province of Alberta could produce an annual savings of $36 million a year by instituting a cell phone ban.
The breakdown is $6 million in lower health care costs and $30 million in savings on clearing away wreckage from vehicle crashes. The lead researcher called the revenue proposition "a no-brainer" for the province.
But the costs of a ban on using cell phones while driving would be $20.5 million annually. This includes awareness campaigns, manpower and other costs of enforcement, and $14 million in calls ("lost consumer surplus") that would not be made by drivers. The $14 million would not be direct costs, but revenue losses suffered by mobile telecommunications providers.
Economics are sometimes inserted into the debates on distracted driving legislation, with supporters pointing to the monetary gains from tickets and court costs. In California, for instance, a proposed doubling of fines for texting and handheld cell phone use could have brought the state another $32 million annually, a panel found. (The plan was defeated.)
Critics often accuse lawmakers who approve distracted driving bans of seeking revenue through traffic fines.
Alberta has been widely criticized for foot-dragging on distracted driving laws while six other provinces have enacted bans on text messaging and cell phones. (British Columbia, Newfoundland, Ontario, Quebec, Nova Scotia and Saskatchewan.)
The province government's Bill 16, which would ban handheld cell phone use and texting, is up for debate in the Legislature. The bill seeks a $172 fine for various distracted driving activities.
Study author Dr. Alan Shiell (pictured) said he had mixed feels about Bill 16: "Personally, I would introduce a complete ban. It may inconvenience drivers a little but that is more than offset by the risk of a crash and the costs and harms associated with crashes."
As for the study's unusual economic angle, Shiell says: "I hope this research sheds some new light on the issue."
The UC study assumed 4,450 fewer collisions annually in Alberta and 15 fewer deaths. It was first published in the September issue of the journal Health Economics.