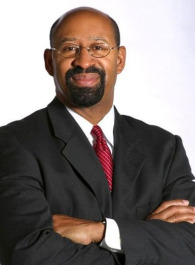 Almost on cue, a Philadelphia motorist with her mouth in gear slammed into a bus and dramatized the need for the city's brand-new ban on handheld cell phones.
On the same day that Philadelphia's mayor signed the law, the cell-phoning woman caused a city bus to plow into several parked cars and a transport support beam, police say.
Sixteen people, including a young child, were injured. The driver ran a red light while gabbing on her cell phone, police reported.
Mayor Mike Nutter told the Daily News it was "a perfect example why we needed the law that I signed. When you're distracted holding a cell phone and texting, it's an example of when bad things happen."
The incident should provide ironic ammo for the city's battle with state legislators over the ban. The Pennsylvania House on Monday approved an amendment that would prevent the city from receiving $90 million in road and highway funding if it went ahead with the ban. Instead of dropping the hot potato, the mayor held a media event to promote the Philadelphia cell phone law, which goes into full effect on Nov. 1.
"We're doing what we think is in our best interest," the mayor said Thursday.