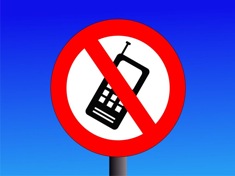 With or without a hands-free device, motorists are at a significantly greater risk of getting into a serious accident when they use a cell phone and drive, a new study says.
The Ontario Medical Association called on its provincial government to enact laws reducing the cell phone dangers. The Canadian provinces of Newfoundland and Labrador, Quebec, and Nova Scotia have banned the use of hand-held cell phones.
"Doctors know all too well the consequences of driving while distracted," OMA president Ken Arnold said.
The group stated: "The OMA has found evidence that cell phone use (regardless of whether it is hands-free or hand-held) has a significant impact on the driver's cognitive functions, visual concentration, the speed at which they can process information and, as a result, their reaction time."
The research found that using a cell phone while driving:
Greatly reduced the driver's functional field of view
Changed average driving speed
Decreased the "safe distance" between vehicles
Slowed brake reaction time
Slowed response times to traffic light changes
Resulted in a 15% increase in non-response to stoplights
Reduced visual monitoring of mirrors and instruments
Resulted in fewer inspection glances at traffic lights
Produced an increased tendency toward hard braking.
The OMA noted it is clear that any activity such as dialing, typing or reading a text message is unsafe for drivers and those around them.
Opponents of cell phone legislation no doubt will point out that this was a "review of literature," not new research. (Regardless, the OMA story has been getting good play in newspapers and online.)
So why weigh in?
"We believe it is the role of physicians to investigate the health impacts of societal activities, such as driving while using your phone, and to report these publicly," the OMA said. "Sometimes the evidence is conclusive enough to require physicians to challenge the status quo and champion the health and safety of their patients by calling for legislative action."
In August 2008, the Alberta Medical Association endorsed a bill that would ban hand-held cell phone use while driving.
The medical association voiced its support before a legislative committee reviewing Bill 204, the Traffic Safety Amendment Act. The Alberta doctors called for outlawing use of hands-free cell phones as well.
That private member's bill from Calgary Tory MLA Art Johnston was killed by the committee in early October. The panel instead urged remedies that include all major driving distractions.
"I personally think the biggest distraction is a cellphone, and text messaging," Johnston told the Calgary Herald. "We still have people very, very divided on it, but I believe in it and I'm going to do the best I can until it's (legislated)."
On Oct. 4, Alberta Tories rejected two resolutions restricting the use of cell phones and other wireless devices while driving. One would have banned all cell phone use by motorists while the other targeted only hand-held cell phones. Premier Ed Stelmach is opposed to cell phone bans, citing the usual array of distracted driving hazards beyond making calls.
The maritime province of Prince Edward Island is debating an islandwide ban on hand-held cell phone use while driving. Transportation and Public Works Minister Ron MacKinley has prepared legislation that also seeks to outlaw text messaging and a variety of other electronic distractions, including use of pagers and iPods.