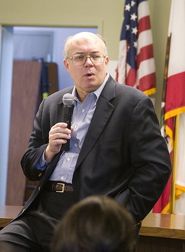 State Sen. Joe Simitian's bid to increase the effectiveness of California's distracted driving laws has failed, at least for 2010.
Senate Bill 1475 would have would more than doubled fines on the trio of distracted driving laws that the senator pushed through in recent years. The bill also would have applied the laws against text messaging and use of handheld cell phones to California's bicyclists.
"The deadline for bills to pass the Appropriations Committee was Aug. 13, and since the cell phone bill did not pass the committee by the deadline, it died there," said Phil Yost of Simitian's office.
Simitian, D-Palo Alto, has said compliance with California's distracted driving laws is good, but "there's room for improvement." He was seeking "a more significant deterrent" with the increased distracted driving fines.
California's ban on text messaging while driving went into effect on Jan. 1, 2009. Fines start at $20 and go to $50 for repeat offenses. With fees, the cost of violating the state text messaging law easily tops $200.
Simitian's bill for 2010 sought to add a point against driver's licenses for distracted driving violations. He later amended the bill to make the point apply on the second offense.
Bicyclists groups created the early opposition to the bill, and its proposed fines were lowered in response (to $20/$50 with no points per the amendment of April 6).
California's brutal budget crisis would have received some help from the doubled fines. The Assembly Committee on Appropriations estimated increased distracted driving fines under Senate Bill 1475 would bring in another $32 million annually.