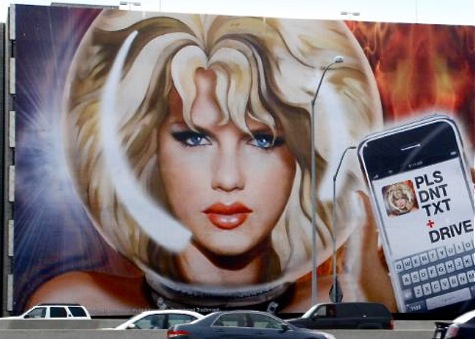 The usual sights on the 405 Freeway in Los Angeles include famous street signs, beautiful sunsets, colorful graffiti — and plenty of law-breaking distracted drivers: SUV owners yakking on cell phones; teens texting away while behind the wheel.
Now there's "Bubblehead," a giant Barbarella-like cutie holding up a cell phone whose on-screen message reads: "PLS DNT TXT & DRIVE."
Los Angeles artist Mike McNeilly created the 13,000-square-foot billboard as part of his continuing series of public service works starring the Bubblehead character, so named because she's wearing a space helmet — and apparently nothing else. The image brings recollections of Jane Fonda in the 1968 sci-fi sex romp "Barbarella."
McNeilly, whose street art appears on billboards, buildings, bus-stop benches, construction site walls and the like, has said: "I like to grab someone by the jugular and say, 'Give me three seconds. Think!' "
Previous targets for McNeilly's do-gooder art include hunger, AIDS ("No Glove, No Love") and murder.
Via his SkyTag company, McNeilly creates "supergraphics" that cover sides of tall buildings, for commercial and non-commercial promotions. The giant visuals have kept McNeilly in the news, as he tangled with city governments and homeowners groups.