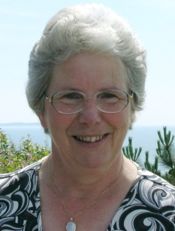 A young driver who killed a grandmother while read a text message in southeast England, has been sentenced to 2 1/2 years in jail.
Photographers captured images of Keisha Wall, 19, of Reading as she walked into court clutching her mobile phone. She denied text messaging and said her mother, a driving instructor, may have grabbed her wheel, causing the fatality.
Christine Lyon, 63 (pictured), died in February 2010 when Wall's vehicle jumped the curb. Lyon was pinned up against a wall, where she was crushed and killed instantly.
The court heard evidence that Wall received and read a text message seconds before the fatality occurred. The jury and judge rejected her version of events. Wall's mother did not testify in support of the young woman's claim that she grabbed the wheel.
The judge told Wall: "By your actions that day, you deprived a loving family of their mother and grandmother and a husband of his wife of more than 40 years. The simple fact is that she would be alive today if you had not behaved so irresponsibly. This was a wholly avoidable accident, which caused a wholly avoidable death. Only you are to blame."
Wall could have been sentenced to 14 years in prison.
Mitigating factors in the sentencing were listed as "good character" and "remorse," but the victim's family released a statement saying: "The fact that Keisha Wall denied liability just added insult to injury. We have never had an apology."
Wall also has been banned from driving for three years. She was taken into custody immediately and will serve her time in a youth offenders facility.
The judge also expressed hope that the English distracted driving sentence "will add to the message which the courts have been consistently sending out about the dreadful and avoidable consequences of using a mobile behind the wheel."
Read the European distracted driving news page.