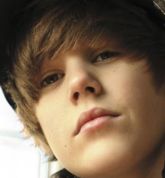 Kid singing star Justin Bieber hasn't forgotten about his promise to campaign against teenage texting and driving.
On a recent episode of "Makeover: Home Edition," he found time to help the Brown Family of Wellman, Texas, whose daughter and sister Alexandra died in a crash caused by a texting driver.
"Makeover" built the family a new home while they went on a freebie trip to New York to meet Bieber and see his concert.
Alexandra's kid sister Katrina, 12, got to hang out with the singer before the show.
"It's been a big part of my life to influence others not to text and drive," the singer told the Browns. Bieber then put his money where his mouth is by dedicating a dollar from every ticket sold to the Remember Alex Brown Foundation.
The family uses Alexandra's wrecked vehicle to spread the word about the dangers of texting and driving, telling onlookers to "BUST or Buckle Up and Stop Texting." Their new home was built last November and the show aired Jan. 30, with the Bieber/texting angle heavily publicized.
Bieber was one of the first celebrities to sign Oprah Winfrey's No Phone Zone pledge. His concerts spread the word at every stop, as well.