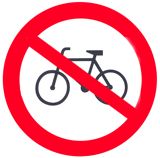 Bikes and distracted driving: As laws restricting drivers' use of cell phones and texting devices spread throughout the nation, legislators appear to be fine-tuning their bills to include bicyclists. This page tracks distracted driving legislation and laws affecting bicyclists and riders of other two-wheeled vehicles.
2011 law, legislation updates:
Bicyclists in Chicago are prohibited from using handheld cell phones and texting as of November. Alderman Marge Laurino's plan sailed through the City Council on Oct. 5.
Laurino, a rider who describes herself as "proponent of cycling," said the idea was to "level the field" with motorists, who are banned from texting and talking in city limits. Not surprisingly, the legislation was backed by the City Council's Committee on Pedestrian and Traffic Safety — headed by Laurino.
Fines are $20 to $50 (first offense) up to $100 (third violation). They can hit $500 if an accident results. Bicyclists will be allowed to make cell phone calls if a hands-free device is used. Many bicyclists say a helmet law should have been a higher priority, a Northwestern University article says.
Highland Park's ban on handheld cell phone use while driving went into effect June 1, 2011. Read more about the Chicago bicycle cell phone ban.
In Oregon, state Rep. Michael Schaufler has filed House Bill 2602, whose provisions include a ban on bicyclists' use of "a listening device that is capable of receiving telephonic communication, radio broadcasts or recorded sounds." Meaning smartphones, MP3 players, radios, CD players and the like. The fine for "unsafe operation of a bicycle" would be $90.
Schaufler told Willamette Week, "I think it makes sense not to have sound pumped into your ears while you're riding a bicycle. You should have all your wits about you. Do you ride a bicycle with blinders on your eyes?"
Schaufler, D-Happy Valley, says he's tired of reading bicyclists' complaints about the bill: "People on bicycles ask for a whole lot and then they say, 'don't regulate us!' " A sampling of bicyclers' online comments suggests that use of a single earbud is common — one ear for audio, another for safety. Also, "With any luck, the headphones bill is too silly and targeted to get out of committee."
In Virginia, HB 1404 seeks to extend Virginia's text messaging ban to bicycles, mopeds and "electric personal assistive mobility devices." The law would make violations subject to primary enforcement, meaning police can halt a bicyclist for that reason alone. Rep. Algie Howell, D-Northfolk, is the sponsor. Howell's texting legislation of 2008, 2009 and 2010 also targeted bicyclists and moped riders.
An Arkansas state senator dropped his plan to limit headphone use by bicyclists and pedestrians to one ear only, citing a barrage of citizen complaints. Sen. Jimmy Jeffress, D-Crossett, said Jan. 25, 2010, that he knew going in that the draft legislation wouldn't succeed, but he wanted to raise the issue. He was inspired by a Little Rock accident.
In California, Sen. Joe Simitian partially backed down on his plan for distracted driving fines for bicyclists after a wave of complaints from riders. The 2010 legislation failed to become law but resurfaced in 2011 with the revised lower fines ($20/$50). There is no distracted driving law for bicyclists in California, but Simitian's SB 28 could change that.
Distracted driving notes (bicycles):
In Montana, the city of Billings' ban on text messaging and use of handheld cell phones while driving includes motorcycles and bicycles. Fines typically $110 but can be up to $300 (first offense) then up to $500.
Philadelphia's ban on talking on handheld cell phones while driving extends to bicyclists, motorcyclists, skaters and skateboarders. It was enacted in May 2009. Fines of $150 to $300. Allentown followed suit in 2010 as its handheld cell phone ban extended to skateboarders, inline skaters and bicyclists. (Fines of $150 to $300.) And Wilkes-Barre checked in with fines of $75 for riding bicycles while talking on a phone or texting.