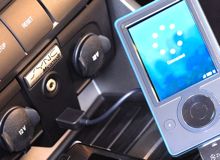 U.S. automakers who are racing to add Web-based communications devices to their vehicles could be creating dangerous new distractions, DOT chief Ray LaHood charged.
"Let's put safety before entertainment," LaHood said as he opened up a new front in the DOT's war on distracted driving.
Speaking at the second Distracted Driving Summit, LaHood noted, "In recent days and weeks we've seen news stories about carmakers adding technology in vehicles that lets drivers update Facebook, surf the Web or do any number of other things instead of driving safely.
"Features that pull drivers' hands, eyes and attention away from the road are distractions."
The DOT chief said he would be meeting with the major automakers to set guidelines for entertainment and communications systems such as Ford's Synch and GM OnStar.
Ford's Synch was developed with Microsoft. It includes applications for Twitter and the music streaming service Pandora.
GM has just upgraded its OnStar system with improved voice recognition that's supposed to cut down on distractions for those driving and using the Internet.
"I don't think we're at all engaging in activities that are going to make it worse," OnStar president Chris Preuss told the AP on Sept. 15. "We're absolutely engaging in activities that will make things better."
The Alliance of Automobile Manufacturers said that consumers wanted the connectivity and the mission was to provide them safely.
Mercedes and BMW both have added potentially distracting dashboard entertainment options. BMW has developed a dashboard search engine for the Web.
Looking to disassociate itself from the distracted dashboard news, Facebook released a statement: "We share Secretary LaHood's sentiment that people should never engage in any behavior that takes their focus off the road."
LaHood also told the distracted driving gathering that truckers hauling hazardous waste will be banned from text messaging. The new rule would be closing a loophole in commercial trucking regulations.
The DOT chief also raised the possibility of "warning labels" on mobile telephone boxes.