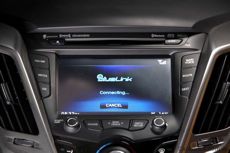 This year's CES confirmed that automakers are indeed quickening the pace toward making their vehicles hubs of electronic information and entertainment.
"Connected vehicle" systems and safe-driving technologies co-existed and co-mingled at the 2011 Consumer Electronics Show in Las Vegas.
Toyota and Hyundai unveiled new wireless communications and data systems for their vehicles, while GM's popular OnStar service announced it was expanding into other carmakers' vehicles.
Ford rolled out its first electric car, with "wireless connected vehicle services" designed by partner Airbiquity.
"The car of the future is part of the mobile (electronics) world," said Audi AG chairman Rupert Stadler. "And that is the future we are driving toward."
Stadler used part of his CES keynote speech to talk up Audi's multimedia interface platform, which delivers navigation, communications and entertainment.
The U.S. Department of Transportation has expressed concern over the spread of Internet-based wireless systems that could worsen the nation's distracted driving problems. Carmakers respond that technology such as voice-recognition software actually makes for safer driving.
"There are many integration, compatibility and driver distraction issues that will need to be resolved, but we will start to see (more of) these technologies in cars in the very near future," says Doug Newcomb, a senior editor at Edmunds.com who is covering CES.
Newcomb pointed to growth areas as in-car Internet; smartphone integration with dashboards; smartphone apps that extend the in-dash offerings to other locations; and more "telematic" services similar to GM's OnStar navigation and information system.
OnStar plugged its upcoming app for Android smartphones that will read drivers' incoming text messages, check for Facebook updates and allowing for voice-commanded responses. An iPhone version is expected after the Android app's debut sometime this summer.
Toyota trumpeted its new "Etune" electronics system, also designed to import Internet content via smartphone apps. Content providers so far include Bing, OpenTable, MovieTickets.com and Pandora. "Bring the power of a decision engine to your car with Bing," the carmaker urges.
Rollout for Etune begins in the later part of 2011. Toyota vehicle buyers get a free subscription to the service for three years.
Hyundai unveiled Blue Link (pictured), a budget telematics system about to go public on its Sonata model (sometime this spring) and Veloster (summer). Eventually it will be available on all vehicles, the South Korean carmaker said.
Hyundai's Blue Link multi-tiered service includes auto-crash notification and consumer-friendly information such as restaurant reviews and gas prices. It will be more dependent on voice-triggered responses than live operators, and plans to undercut GM's OnStar, which starts at about $300.
OnStar, meanwhile, said it would make its interactive services available in the consumer aftermarket, meaning owners of most vehicle makes and models can add the subscription product. Plans are to make the rear-view-mirror-based system available for the 20 best-selling vehicles in the U.S.
Pioneer Corp. was in town courting software developers with partner tech guidelines for its PAIS system (platform for the aggregation of Internet services), a voice-controlled device portal that can be used in vehicles.
Chrysler and technology parter Garmin (of GPS fame) were in town with their uConnect Touch navigation system, which recently expanded to numerous models. Garmin's navigation can do tricks like speaking street names and answering the question "Where am I."
Like Ford's Touch Sync system, uConnect works via smartphone connectivity. It utilizes an 8.5-inch screen and has entertainment features from Panasonic. (In the small print, Chrysler says the system is not for use while the vehicle is in motion.)
On the safety-first side, a new consumer safety product from Iteris and Audiovox combines lane-changing and forward-collision warning systems.
Drivers are alerted when drifting into another lane or following too closely. The technologies have been available on some premium vehicles and trucks. The new system, which will cost about $600 installed, operates via a compact camera and onboard computer.
"We think driver safety is a major new growth opportunity for the auto aftermarket," said Audiovox chief Tom Malone.
ZoomSafer, meanwhile, showcased "FleetSafer Vision," which helps fleet owners monitor drivers' wireless communications use.
FleetSafer Vision crunches data from the vehicle (location, speed, etc.) along with mobile wireless communications data (phone calls, text messages) and other information (weather, traffic, etc.) so fleet operators can "measure and remediate risky behavior and reinforce good behavior."
ZoomSafer already markets software that prevents drivers from texting while driving, but it only works with smartphones. The new product hooks up telematics-equipped vehicles regardless of the phone used by the operator.
Another telematics outfit, Inthinc, copped a CES Innovations Design and Engineering Award for its teen driving safety system, tiwiFamily. It allows parents to monitor cell phone usage, speeding and other dangerous activities.
Taser, known for its law enforcement tools, was selling its "Protector" safe driving system, which locks down cell phones, texting and Internet use while a vehicle is moving. Parents can decide if hands-free cell phone use is allowed.
Last year's CES sponsored a session called "Drivers, Consumer Electronics, and Highway Safety: How Can Technology Help?" focused on distracted driving. Input came from executives of Safe Driving Systems, Illume Software, ZoomSafer Inc., Tomahawk Systems, Marketing, Best Buy Mobile, TxtBlocker and Global Traffic Network.