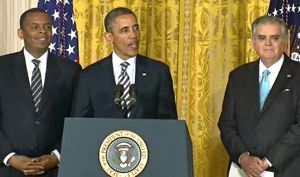 The next U.S. secretary of Transportation will be Anthony Foxx, the mayor of Charlotte, N.C., assuming President Obama has his way.
Obama nominated Foxx on Monday, with current DOT chief Ray LaHood (right) nodding approval. The Senate must approve the selection.
The president called LaHood one of the best transportation secretaries in history. LaHood, in turn, called Foxx the right man for the job. Both men are friends of the president.
"With Mayor Foxx at the helm, the American people can expect DOT's progress to continue unabated during the president's second term," LaHood said.
The fast-growing Charlotte has been on a transport mission under Foxx, with an aggressive expansion of its light rail system, new electric streetcars, highway improvements for freight, and runway upgrades at its airport. It is considered a model city for public transportation.
LaHood, a Republican, is being replaced by a Democrat, as expected. Passed over, apparently, was Debbie Hersman, the chairwoman of the National Transportation Safety Board, who has called for a complete ban on cell phone use while driving. LaHood did not endorse her call for the total ban. L.A. Mayor Antonio Villaraigosa also was considered a possible replacement.
"There is no such thing as a Democratic or Republican road, bridge, port, air field or rail system," Foxx said at Monday's White House announcement.
The Foxx nomination addresses criticisms that Obama's Cabinet was light on diversity. Foxx would be the first African American in the new Cabinet.
The Washington Post called Foxx, 42, a "rising Democratic star." His city hosted the Democratic National Convention in September. He decided not to seek a third term as mayor and apparently declined party encouragements to run for governor.
In addition to his duties as mayor, Foxx works as an attorney for a Charlotte bus company.
---
Read the blog post
:
"For Ray LaHood, a standing ovation"
---
LaHood made the announcement he was stepping down as DOT chief in a memo to staffers Jan. 29, saying he would stay on until a successor is named. Obama apparently tried to talk his friend into staying on, without success. It is not considered unusual for a Cabinet member to leave after one term.
LaHood made distracted driving awareness one of the cornerstones of his time at the DOT.
North Carolina bans text messaging and the use of cell phones by drivers under the age of 18 with provisional licenses. Charlotte has no local ordinance against handheld cell phone use while driving. (Chapel Hill's ban went into effect last year.) Drivers in Charlotte's county, Mecklenburg, rank among the worst distracted driving offenders in the state, troopers report.