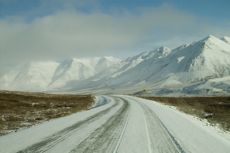 A pair of state representatives have submitted to the Legislature a new version of Alaska's text messaging law to ensure its intent is clear to the courts.
Reps. Les Gara and Bill Thomas on Jan. 6 filed the bipartisan legislation House Bill 255, which would remove any doubt that texting and driving is illegal in Alaska.
The ambiguous wording of Alaska's 2008 prohibition on texting & driving came back to haunt legislators when a magistrate in tiny Kenai ruled that the state needed to be more precise with the distracted driving law. The magistrate noted correctly that its wording never actually refers to "text messaging."
Instead, Alaska Statute Section 28.35.161 created "the crime of driving with a screen device operating" under which cell phone users are exempt for purposes of "verbal communication."
Magistrate Jennifer Wells dismissed a texting & driving case in December 2011, saying: "If the Alaska legislature wanted to prohibit texting, then it should have, and could have, clearly said so." The state of Alaska is appealing Wells' decision.
Magistrates in Fairbanks received instructions from a supervising judge not to enforce the law as well.
Rep. Gara, D-Anchorage, said Jan. 4: "Rather than wait for appeals, we want to send a clear message to the public, now, that texting, and typing on personal and computer devices can cause death and serious injury. The current uncertainty in the law sends a weak safety message to the public."
Separately, Gara told the Alaska Dispatch: "We think the current law is OK, we agree with the judges that have been enforcing it. There's a good faith disagreement among the judges (that would be resolved by clear wording)."
Several legislators from both parties will be signing on sponsors, said Gara and Thomas, R-Haines. Rep. Max Gruenberg, D-Anchorage, and at least one other House Republican will be prime sponsors, they said.
Several distracted driving bills are pending in the Alaska 2011-2012 legislative session, but they're given little chance of succeeding. The Gara-Thomas legislation is deliberately distanced from those bills — some include cell phone provisions — to ensure quick passage, the sponsors said.
(originally posted Jan. 5 and updated with the bill filing Jan. 6)
View the Alaska distracted driving news page.