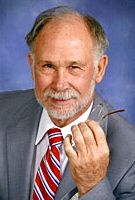 Starting Aug. 1, text messaging while driving will be illegal in the state of Alabama.
Gov. Robert Bentley signed off on the distracted driving legislation May 8. The law was a long time coming.
The bill's author is state Rep. Jim McClendon, left, one of the nation's most persistent lawmakers when it comes to distracted driving.
McClendon, R-Springville, saw his distracted driving legislation rejected or ignored at least six times. In 2011 and 2012, McClendon's texting and driving bills cleared the House only to die in the Senate.
This year, the Senate played ball. A compromise deal was stuck April 26, with House Bill 2 winning unanimous approval in both houses of the Legislature.
For a state that was hesitant to pass a texting law, it gave its new law some teeth. The Alabama texting ban will receive primary enforcement. Fines are relatively low — $25 (first offense) then $50 and $75 — but convictions bring two points against the driver's license.
Alabama becomes the 38th state to ban texting while driving. Drivers age 18 and above are allowed to use cell phones in the state, but teenagers are not.
McClendon said he understood the delay in getting a texting law: Alabama is a state big on its personal liberties, he said, not New York or California — and needed some time to come around.
State Rep. Alvin Holmes, D-Montgomery, was one of the lawmakers who opposed text messaging legislation in the past but voted for McClendon's plan this year. "I saw a young lady come that close to death with an 18-wheeler because of texting," he said after the key House vote.
It wasn't certain that Gov. Bentley was going to sign the distracted driving bill when it emerged from the Legislature. He clearly was on board at the signing:
"It doesn't take a lot of common sense to know that you can't text and drive at the same time," Bentley said. "I believe this will save lives."
DOT chief Roy La Hood chimed in: "With Governor Bentley's signature, now more than three-quarters of all states outlaw one of the riskiest behaviors behind the wheel — texting and driving.
"Alabama roads and motorists will be safer as a result of this law," La Hood said.