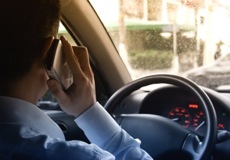 Adults are just as likely to text message while driving as teenagers, according to a new national survey.
"Adults may be the ones sounding the alarm on the dangers of distracted driving, but they don't always set the best example themselves," said Mary Madden of the Pew Research Center.
The finding contradicts the widely held belief that texting and driving is primarily a problem with teens. The Pew report on distracted driving does show, however, that young adults (ages 18 to 34) are the most likely to text and drive, by far (59 percent).
More than a quarter of U.S. adults (27 percent) admit to texting while behind the wheel, Pew reports. Texting teens posted almost identical numbers (26 percent).
Police say texting and driving is more dangerous for teens, who have far less experience behind the wheel than adults. At any age, texting and operating a motor vehicle has been found to dramatically increase the chances of an accident.
Adults who say then have driven while on a cell phone clearly outpace teenagers, the distracted driving poll found. 61 percent of adults said they used a mobile phone while driving, vs. 43 percent of teenagers (ages 16, 17).
Nine in 10 members of Generation X (34-45 years old) who own cell phones report that they talk and drive. Seniors come in at 50 percent.
Adults 18-33 are the most likely to admit they text while driving (59 percent) compared with age groups 34-45 (50 percent) and 46-64 (29 percent).
More findings from the Pew study:
Almost half of all adults and teens say they have been passengers in a vehicle when the driver was text messaging.
44 percent of adults say they've been in a vehicle when the driver used a cell phone in a dangerous way. 40 percent of the teens said they had. This figure decreases dramatically with age.
Pew says 14 percent of adult drivers have run into something or someone while talking or texting.
Men are more likely than women to admit texting while behind the wheel (51 percent of men who use text messaging devices vs. 42 percent of women).
82 percent of adults have cell phones. 58% text message on their mobile phones.
Telephone interviews were conducted with 2,252 adult drivers in late May and early April. Numbers for teens came from earlier reports. Adults may be more reliable than teens in self-reporting their behaviors.
Another recent report found that states are increasingly fighting distracted driving.
Forty-three states are now collecting data on distraction as a factor in road and highway accidents. That compares with 17 in 2003, the Governors Highway Safety Association reports.
Twenty-seven states have written distracted driving provisions into their Strategic Highway Safety Plans. (That's almost the same number of states that had adopted laws on texting and talking while behind the wheel.) The SHSPs reflect priorities and programs in departments of transportation and motor vehicles, as well as safety programs.
Thirty-seven states have launched public information campaigns to warn of the hazards of distracted driving.