Eleven states are "dangerously behind" in adopting highway safety laws, according to an advocacy group's annual report.
The states include Florida, Arizona, Nebraska and Alabama.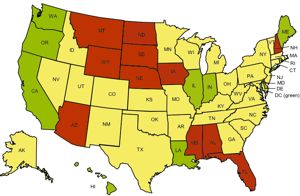 Also making the group's dumb-and-dumber list are South Dakota, Mississippi, Iowa, Montana, New Hampshire, North Dakota and Wyoming.
South Dakota ranked as the worst in the nation in terms of "optimal" laws.
Advocates for Highway and Auto Safety graded all 50 states and the District of Columbia on 15 basic traffic safety laws. It assigns a rating of green, yellow or red to each state.
The 2014 "Roadmap of State Highway Safety Laws" comes "at a critical time as the nation's motor vehicle fatalities climbed for the first time in 2012 after six consecutive years of decline," said Jackie Gillan, president of the 25-year-old Advocates group.
The report is based on 15 "optimal laws" that must be subject to primary enforcement, meaning police can stop and cite violators.
The distracted driving laws cited are a ban on text messaging by all drivers using handheld devices, as well as a ban on any kind of cell phone use by notice drivers.
Others include an all-rider helmet law, primary enforcement seat belt laws, a booster seat law and specific GDL restrictions for teen drivers.
"There is not a single state that has all of Advocates' 15 recommended safety laws," the group said.
"Some state legislatures still are not passing laws that improve public safety, and even worse, some are passing laws to rollback safety," Gillan said.
The group also praised states with its "green" rating for safety laws. They had nine or more of the key laws. The states are Illinois, Oregon, Delaware, Hawaii, Indiana, Maine, Rhode Island, Washington, California and Louisiana, as well as the District of Columbia.
All of those states have texting & driving laws.
Illinois, Oregon and the District of Columbia led the "green" group with 12 laws each.
Of the "red" states, South Dakota, Arizona, Iowa, Montana, Nebraska and Florida did not have texting laws for all drivers (primary enforcement). (Florida enacted a texting law with secondary enforcement in late 2013.)
In a change to the ratings, green states had to have a primary enforcement seat belt law for both front and rear seat passengers. Previously the requirement was for front seat belts. "Only 17 states and DC have primary enforcement seat belt laws covering passengers in all seating positions," the group noted.
Of teens and cell phone use, the group was represented by Capt. Tom Didone of the Montgomery County (Md.) Police Department:
Despite the strong evidence demonstrating the consequences of this action, states are still failing to aggressively address this problem with enactment of effective laws. Only 37 states and the District of Columbia ban text messaging for all drivers.
Didone lost a son in a traffic accident.
Advocates for Highway and Auto Safety was founded in 1989 by executives of the major property
and casualty insurance companies, and prominent consumer and safety leaders. It says its board is made up of equal numbers of insurance organizations and consumer groups.