The push for a texting ban in Texas finally has ended — but the debate over distracted driving regulation in the Lone Star State seems sure to continue.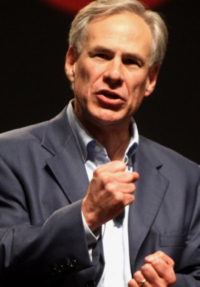 Gov. Greg Abbott, left, signed the texting ban into law June 6, after some last-minute fears that he might not. The governor said, however, that he would push for special-session legislation pre-empting stronger local laws, primarily those that restrict use of handheld cell phones.
"We don't need a patchwork quilt of regulations that dictate driving practices in Texas," Abbott said. Almost all communities in Texas have some form of distracted driving laws, most of them enacted because of the Legislature's long-standing failure to act.
Update: The special session ended abruptly, with the local-law bills left "pending in committee." /update
The texting ban brought in by House Bill 62 — which goes into effect Sept. 1 — would replace local texting laws.
The Texas Legislature's special session begins July 18.
"I was not satisfied with the law as it was written," Abbott said after the bill signing. "Now that Texas does have a statewide ban on texting and driving, I am calling for legislation that fully pre-empts cities and counties from any regulation of mobile devices in vehicles."
Abbott said the new distracted driving law "did not fully achieve my goals."
The governor's signature had been expected, but his office telegraphed his reservations about the law letting some local ordinances stand.
Remaining states without a texting & driving ban for adults are Arizona, Montana and Missouri. Arizona adopted a limited texting ban for novice drivers this year, but it only applies at the beginning of licensing.
Fines under the Texas texting & driving law will range from $25 to $200. Causing death or serious injury could bring fines of up to $4,000 and a year in jail.
Rep. Tom Craddick carried the Texas texting bill through the House, while Sen. Judith Zaffirini had the tougher task of pushing it through the Senate, which has been a graveyard for similar measures in past years. Craddick saw a previous measure OK'd by the Legislature, but vetoed by Abbott's predecessor.
Craddick said June 6: "I am pleased that Gov. Abbott signed House Bill 62 and it will become law. By enacting this public safety legislation, the governor is saving lives by deterring this dangerous and deadly behavior. For a long time, Texas has needed this law to prevent the loss of life in unnecessary and preventable crashes and we finally have it. This delivers a strong message to Texas drivers to stop texting, put down their phone, and keep their eyes on the road."
> Read more about Texas distracted driving laws and legislation.