Iowa has adopted full enforcement for violations of its texting & driving ban, effective July 1.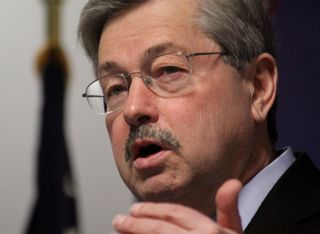 Gov. Terry Branstad signed the legislation April 17. He also OK'd a road-safety bill whose provisions include a legal presumption that handheld electronic device use while driving is reckless driving.
Branstad also hoped for a handheld cell phone ban out of the legislative session, but it did not happen.
While the texting & driving change does somewhat toughen the distracted driving laws, it mostly brings to state in line with most of the rest of the nation. It does remove Iowa from a short list of states that handicap police with "secondary enforcement" — meaning officers had to observe another offense before citing a driver with texting. "We were one of the last states to make it a primary offense to text and drive," Branstad admitted.
Iowa's texting & driving fine remains $30, among the lowest in the nation.
A 2017 poll showed Iowans overwhelmingly supported primary enforcement of the state's texting & driving law. The poll of just over 800 adults showed 88 percent in favor of allowing police to stop and cite offenders.
The other bill had more teeth: Causing a cell-phone-related death in traffic could bring a sentence of up to 10 years in prison and a $10,000 fine (as a Class C felony).
Branstad cited "a disturbing trend of traffic deaths on our roads" in the past three years. He thanked "all of the stakeholders and legislators from both sides of the aisle for their hard work in delivering these bills that will make a big impact in improving safety on Iowa's roads."
Lt. Gov. Kim Reynolds credited "local and state law enforcement, stakeholders like the Iowa Bicycle Coalition and citizens who have lost loved ones to the careless act of motorists that were distracted by their phone while driving."
Reynolds vowed to continue pushing for a hands-free cell phone law, which could be key as she is expected to succeed Branstad as governor as he becomes ambassador to China under the Trump administration.
The distracted driving bills were Senate files 234 and 444.
Earlier in the year, Branstad asked the public to join him in "demanding real change" in Iowa's distracted driving laws. "Modern technologies should come with new responsibilities," Branstad said in his state of the state address in mid-January.
> Read more about Iowa's distracted driving laws.