National Safety Council president Deborah Hersman has been named to the Department of Transportation's Advisory Committee on Automation in Transportation.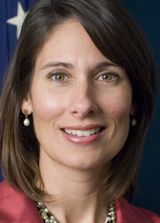 Hersman, a longtime activist in the fight against electronic distracted driving, previously worked for the federal DOT as chairman of the National Transportation Safety Board.
"With new technologies and innovative approaches to mobility, we hold the keys to reach a future without transportation fatalities," Hersman said.
Hersman was appointed by outgoing DOT Secretary Anthony Fox, whom she lauded for his leadership on technology implementation in all modes of transportation.
The advisory panel was established to provide counsel regarding technology implementation that can save lives and help eliminate preventable fatalities in all modes of transportation.
Hersman made headlines at the National Transportation Safety Board when she called for a total ban on cell phone use by drivers. Her boss at the Department of Transportation, Ray LaHood, also an early activist in the war on distracted driving, didn't back her.
At the NSC, Hersman has continued to put out the word that any cell phone use by motorists creates a dangerous situation — regardless of whether a hands-free device is employed.