California Gov. Jerry Brown has signed a rewrite of the state's distracted driving laws.
The act's sponsor, Assemblyman Bill Quirk, celebrated the overhaul of what he called the state's "archaic laws" regarding use of portable electronic devices while driving.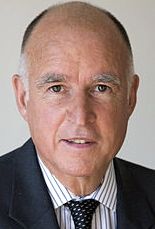 Brown, left, who did not comment on the measure, had vetoed several efforts to increase punishments for electronic distracted driving. Quirk's legislation, AB 1785, did not increase penalties.
"This bill targets the deadliest cause of distracted driving-related crashes, the use of an electronic device while driving," Quirk said after the signing. "The accidents, injuries and deaths associated with this form of distracted driving are completely preventable.
"I am proud that Gov. Brown has agreed that it is time that we update our archaic laws on the issue and do our part to make sure drivers are focused on the road. This bill will save lives."
News of the signing came in the final week for the governor to act on measures that emerged from the 2016 legislative session.
The law's wording, inspired by a court ruling, places the focus on use of the handheld electronic device itself, rather than the activity (such as texting). It is designed to get mobile devices out of drivers' hands.
The change makes holding smartphones and similar devices illegal, except for making a single swipe or tap while the device is mounted on the windshield or dashboard/center panel of the vehicle. That use is consistent with GPS use (but not data entry).
The measure cleared the Senate in a 23-13 vote of Aug. 17. Final approval came from the Assembly in 52-20 vote of Aug. 23.
The fine remains (a base) $20 for the first offense and $50 for serial offenses.
Read more about California's new distracted driving law.