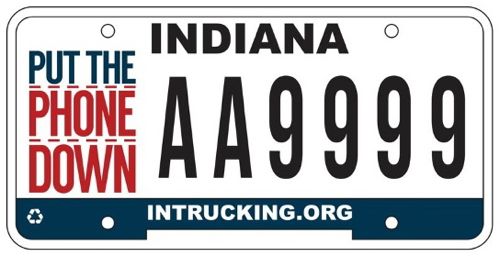 We've all seen the bumper stickers that urge motorists to get off the cell phone and drive. Now there's something a bit more official.
Indiana now has a sponsored license plate with the bold message: "Put the Phone Down."
The state gives $25 of the $40 cost to the Indiana Motor Truck Association, which vows to devote 100 percent of its share to distracted driving education programs such as the Save a Life Tour.
The vanity plate was unveiled Jan. 14 by the truckers group, the office of the state attorney general, the Bureau of Motor Vehicles and the state DOT.
The truckers group adds:
Not only does this plate allow us to travel to summer camps and high schools to shed light on the dangers of distracted driving but it's a reminder for drivers to look straight ahead and not down at their phones.
The plate is available for passenger cars, trucks up to 11,000 pounds, motorcycles and recreational vehicles.
Indiana Motor Truck Association chief Gary Langston said: "Our industry has come to witness firsthand the dire consequences of distracted driving — and so have decided to confront it by selling a plate that alerts others of this issue and funds programs that help keep Indiana drivers safe on the road."