Teenagers who text and drive aren't taking all of the blame for their distracted driving — many point the finger at their parents.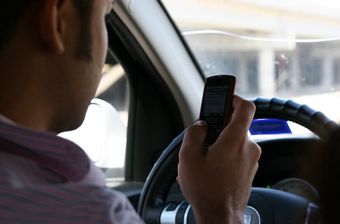 A new study of teen behaviors says 55 percent report texting their parents while behind the wheel in order to update them. Nearly 1 in 5 teens told the researchers that their parents expect a text response within a minute, and 25 percent said the folks wanted to hear back within five minutes.
Not surprisingly, there appears to be a disconnect. Almost 6 in 10 parents told researchers they did not have expectations about immediate responses to their texts. Even though teens said parents were the most demanding people with whom they exchanged texts.
The teen distracted driving study was done for Liberty Mutual Insurance and SADD (Students Against Destructive Decisions), and involved both focus groups and a nationwide survey of high schoolers.
A third of the students said they took their eyes off the road to check on incoming app notifications, with as many as 88 percent of them reporting using apps while driving.
More than a third of the young drivers admitted to texting to confirm or coordinate event details.
"Today's hyper-connected teens' 'fear of missing out' can put young drivers at risk on the road as they may be more plugged into their devices than the actual driving task," said William Horrey, principal research scientist at the Liberty Mutual Research Institute for Safety.
Another safety problem cited by researchers was a lack of sufficient sleep by young drivers, with just over half saying they got under six hours a night. Parents who said their teens weren't getting enough sleep often blamed social media for the deficit.
The most popular applications that teens say they use behind the wheel:
Snapchat, 38 percent
Instagram, 20 percent
Twitter, 17 percent
Facebook, 12 percent
YouTube, 12 percent
A recent study of teen and adult drivers done for AT&T found that half of drivers distracted by their smartphones were busy using social media. "Fear of missing something important" was the primary reason for glancing at texts (38 percent) and email (33 percent).
The Liberty Mutual study's teen focus groups were in Chicago and Washington, D.C., in October 2014. The supporting nationwide survey was of 1,622 eleventh and twelfth graders.