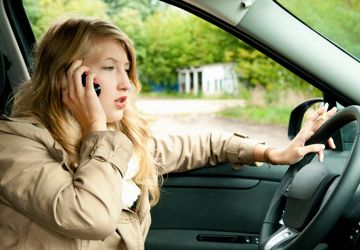 California's Office of Traffic Safety reports a "shocking" increase in use of cell phones by state drivers.
The OTS and Highway Patrol released a study July 14 suggesting a 39 percent increase in the percentage of California drivers using the wireless devices.
Results showed almost 10 percent of drivers — 9.2 percent — were using cell phones while behind the wheel.
Not all uses reported were in violation of state law, however. More than 3 percent of the drivers were employing headsets and/or Bluetooth devices, which is legal in California and all other states with restrictions on roadway cell phone use.
In total, 5.4% of all observed drivers displayed some sort of distracted driving due to device use, compared with 3.8% in 2014.
Some experts, including the National Safety Council, have called for bans on any use of cell phones while behind the wheel, based on studies that suggest the phone call itself provides the distraction.
"It's shocking that nearly 10 percent of motorists were observed using their cell phones while driving a motor vehicle, a potentially-lethal combination," said Office of Traffic Safety Director Ronda Craft.
California, once a leader in distracted driving lawmaking, has seen its momentum slow during the administration of Gov. Jerry Brown, who has several times vetoed increases in fines for texting and using handheld cell phones. Brown also signed off on a bill that guaranteed drivers the right to text using hands-free devices.
Another factor likely is the dramatic increase in ownership of Internet-connected smartphones, with about 182 million people in the U.S. employing the advanced mobile phones.
As in the past five years, the OTS dispatched "observers" to count the number of motorists busy using their mobile phones.
In 2014, the percentage of drivers using cell phones (handheld or hands-free) was 6.6. The recorded high was 10.8 percent in 2012.
Seventeen counties were included in the fifth edition of the study — Observational Study of Cell Phone and Texting Use among California Drivers — including the heaviest traveled: Los Angeles, Riverside, San Bernardino, San Diego and Orange. There were 130 sample sites. A total of 5,349 observations were made.
The study showed little differences in distracted driving by gender, although more male drivers were observed using the communications devices than females.
Not surprisingly, researchers said age was factor:
Overall, younger drivers are displaying significantly more electronic device use, with 7.0 percent of all 16-24-year-olds displaying this behavior. … There is a significantly higher rate of 16-24-year-olds being observed holding a phone to their ear while driving (3.5 percent) compared to the other age groups.
Southern California drivers exhibited an increase in use of headsets and other Bluetooth devices.
The highest observed device use was in suburban areas (7.3 percent) and the lowest in rural areas (3.7 percent).
Field observations were conducted between Feb. 21 and April 6.
The OTS' Craft said: "We will continue our aggressive public outreach campaign and our partnership with law enforcement to educate the public about the dangers of those who drive distracted and put the lives of others at risk."
Texting & driving tickets in California hit a high in 2014, but overall the number of distracted driving citations was down.
During April's Distracted Driving Awareness Month, about 250 law-enforcement agencies across California ticketed more than 46,000 drivers using a cell phone while driving — roughly double the number of tickets issued during the average month.