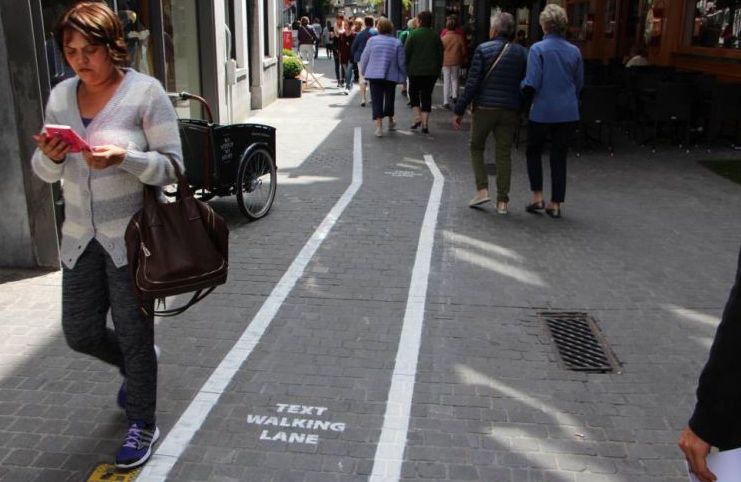 A major mobile phone repairer in Antwerp, Belgium, scored global publicity with establishment of some "text-walking lanes" in the city.
The idea was to avoid "collisions with poles or other pedestrians" — and maybe even save the life of a clueless text-walker.
Local government wasn't on board, though, and the company, Mlab, has since admitted its distracted-talking lanes were a marketing gimmick. The lanes reportedly have since been removed as illegal graffiti and the company was fined for mucking about with the social order.
Mlab explained its project in Antwerp thusly:
Everyone text-walks. You probably walk through the streets while texting or sending Whatsapp messages to your friends and don't really pay attention to your surroundings, only to whatever is happening on your screen.

This causes collisions with poles or other pedestrians. You could, unknowingly, even be endangering your own life while you text-walk when you cross the street without looking up.
Perhaps responding to the attention given the story, the National Safety Council put out a press release reiterating its warnings about the dangers of distracted walking.
A National Geographic TV series set up cell-phone walking lanes as an social-behavior experiment last summer in Washington, D.C. One problem: Some pedestrians were so engrossed in their mobile devices that they never saw the lanes.
Social media has well documented the misadventures of pedestrians engaged with their cell phones, including the lady who famously did a header into a mall's water pond.
The issue can be good for a laugh, but it isn't all humorous: U.S. Department of Transportation chief declared distracted walking as "a real problem affecting our country" and worthy of public safety grants. New York, Los Angeles and Chicago are among the cities that have identified mobile device use as a serious pedestrian hazard.
A few U.S. states have designated texting rest stops to encourage would-be distracted drivers to pull off the highway instead of endangering themselves and others.