Manitoba has joined Ontario in stiffening its fines for distracted drivers. Both provinces have punishments that rank among the toughest in North America.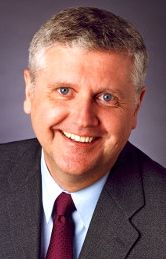 The Manitoba government on June 4 unveiled a new 5-demerit penalty vs. the driver's license. The existing $200 fine remains the same. Distracted drivers previously faced a 2-demerit assessment.
The new penalty goes into effect July 1.
"This is the highest level of demerit points in Canada for the use of a handheld device," said Justice Minister Gord Mackintosh, left.
All Canadian provinces use demerits to punish distracted drivers, following the addition of Ontario in early June. That province added 3 points and also increased fines significantly: from a range of $60 to $500 to a range of $300 to $1,000.
The update to Ontario's Highway Traffic Act is the work of transportation minister Steven Del Duca, who cited the "really, really horrific risk" of distracted driving behaviors.
In Manitoba, the points mean increases in license and registration renewal fees, ranging from about $540 to $3,200, depending on the driver's existing place on the driver safety rating scale.
In 2014, 5,200 people were convicted of distracted driving in the province. Mackintosh said "28 Manitobans are killed every year by a distracted driver."
"This is devastating and senseless because texting or talking while driving is 100 per cent preventable," Mackintosh said in announcing the distracted driving changes.
The province also proposed a crackdown on impaired drivers, which would extend the duration of immediate license suspensions. That change needs to be approved by lawmakers. The moves were part of the government's Safer Roads Act initiative.
Mackintosh said the public was "increasingly fed up" with drivers who failed to have their vehicles under control. "They're saying, 'We need stronger measures and we need them now.' … They can't stand it, they don't like the increased risk," he told a news conference.
In Ontario, the new penalties take effect in the fall, the government said, following a public education campaign.
"Ontario's roads are among the safest in North America and this new legislation is intended to keep it that way," minister Del Duca said.
In British Columbia, the opposition called for stiffer penalties for distracted drivers, saying the province was "dropping behind" the rest of Canada.