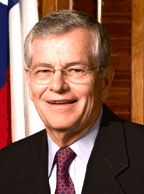 Texas backers of a statewide texting & driving law will have at least two more years to wait.
State Rep. Tom Craddick, left, said any texting-related deaths in that period would be "on the back of those senators" who refused to bring his distracted driving legislation to the Senate floor.
The distracted driving plan, he said, "will not become law and will not help prevent future injuries or loss of life."
Craddick's House Bill 80 was approved by the House in a 102-40 vote March 25. The bill was delayed in Senate committee by an opponent, and then fell one vote short of reaching the Senate floor. This was veteran lawmaker Craddick's third attempt to outlaw text messaging Texas' adult drivers.
The legislation's Republican opponents — whom Craddick called "the liberty caucus" — cited personal freedom and enforceability issues. Texas remains one of a handful of states without a statewide texting law affecting all drivers.
Opposition leader state Sen. Konni Burton had charged that the texting & driving measure "does not provide any additional protections to Texans and contains several enforceability issues."
The texting bill would have faced a possible veto even had it succeeded in the Senate. The previous governor vetoed the 2011 measure and the new governor had stated opposition to further distracted driving legislation. Backers had hoped, however, that Gov. Greg Abbott's recent mixed signals on the issue would have led to his support.
Craddick said Abbott would have signed the bill because it would have removed the crazy quilt of local laws addressing distracted driving.
"It is always disappointing when good legislation does not get enacted," said Craddick, "but is especially tough to tell the families that have lost loved ones because of a texting-while-driving crash or to look in the eye of a victim who is permanently confined to a wheelchair because of a distracted driving crash."
The bill's Senate sponsor was Judith Zaffirini. Another key supporter was Sen. Joan Huffman, whose State Affairs Committee approved the distracted driving bill in a 5-2 vote. Opponent Sen. Don Huffines deliberately delayed the measure in committee.
52 people died in crashes linked to cell phone use in 2014, the Texas Department of Transportation reported.
Texas, which places no restrictions on adult drivers' use of personal electronics, does bar drivers under age 18 from using wireless communications devices.
Read more about the history of distracted driving laws in Texas.