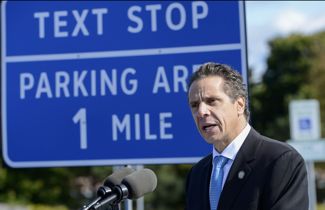 New York drivers who text message or use handheld cell phones are looking at new maximum fines for the offenses.
Young and new drivers, meanwhile, are flirting with a yearlong loss of their licenses for electronic distracted driving violations.
"Driving habits are developed early, and we are sending a message that texting while driving is unsafe, unacceptable and downright dangerous," Gov. Andrew Cuomo (pictured) said in announcing the tougher distracted driving penalties and suspensions. "There have been far too many avoidable tragedies due to texting while driving, and with these new penalties, we are seeking to change the behavior of young drivers now, and make New York's roadways safer for all."
As of Nov. 1, the new fines for text messaging and using handheld cell phones while driving in New York are:
First offense: $50 to $200.
Second offense (within 18 months): $50 to $250.
Third offense (within 18 months): $50 to $450.
(The new distracted driving penalties of 2014 added $50 to the maximum allowable fine.)
For drivers with a probationary license, Class DJ, Class MJ or a learner permit: First offenses now bring a mandatory 120-day license suspension. Second-time offenders (within six months of license restoration) face at least a one-year loss of driving privileges.
"Vigilance is particularly important as young motorists develop habits that will stay with them throughout their lifetime," Cuomo has said.
New York's distacted driving penalty changes were part of the budget package approved in earlier in 2014.
In 2013, via executive order, Cuomo increased the DMV points against a driver convicted of text messaging or using handheld cell phones from 3 to 5 points. Cuomo has steadily toughened the state's laws against drivers' use of mobile phone and text messaging during his time in office.
Read more about New York state distracted driving laws.