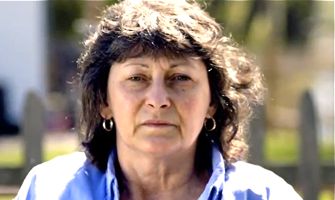 Gov. Peter Shumlin wasn't entirely convinced, but Debbie Drewniak had no doubts as Vermont's handheld cell phone bill was signed into law.
Drewniak, pictured, whose life nearly was ended by a teen who was texting and driving, was awarded the pen that Shumlin used to sign the distracted driving measure into law.
It goes into effect Oct. 1, with fines ranging from $200 to $500.
"This is an example where a governor listens and changes his mind," Shumlin said at the bill June 12 bill signing. The governor said he heard the voices of those Vermont residents who "desperately wanted this bill to try to make our roads more safe." He had worked behind the scenes to defeat the bill.
Text messaging already was banned in Vermont, with similar fines.
Drewniak was hit by a texting teen while at her mailbox in 2011. Her story was told as part of filmmaker Werner Herzog's unsettling "From One Second to the Next" project, about the toll of texting & driving.
After emerging from a coma, the one-time globe trotter Drewniak went on to a life largely spent in her family's back yard, incapable of caring for herself because of terrible vision and brain damage. (Watch Herzog's video about the Drewniak case below)
The new Vermont law does not bring points vs. a violator's license, a sticking point for the governor, who favored the mantra of distracted driving law foes: "You can't legislate common sense."
"Gov. Shumlin wanted to ensure the bill made sense for Vermont, wouldn't increase Vermonters' insurance rates, or harm their driving records," a spokeswoman said of the governor's change of heart.
The governor said at the bill signing: "It has become clear to me in listening … that Vermonters really want us to sign this bill."
The key change of heart in Vermont, however, occurred with Senate Transportation Chairman Dick Mazza, a longtime foe of the law. "I'm really concerned about the amount of accidents we're having," he said early in the legislative session.
The measure was Senate Bill 314. The act that Shumlin signed was the product of a conference committee. The House version of the handheld electronic device plan called for 5 points vs. the driver's license, which would have affected insurance rates. The new Vermont law will not.
Read more about Vermont's distracted driving laws.