The California Assembly wants to present Gov. Jerry Brown with a new plan to more than double fines for electronic distracted driving.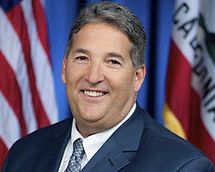 The Assembly approved a bill from Assemblyman Jim Frazier (pictured) that seeks to hike the current fine for handheld cell phone use or texting from $20 to $50. Subsequent fines would be $100 with a point vs. the driver's license.
Brown vetoed almost identical legislation in 2011. The sponsor, state Sen. Joe Simitian, tried again in 2012 — with lesser fines — but that measure too was axed by Brown.
Brown wrote in his 2011 veto message: "For people of ordinary means, current fines and penalty assessments should be sufficient deterrent."
The new bill, AB 1646, cleared the full Assembly by a 68-9 vote on May 15. It moves on to the Senate.
Frazier's legislation calls for the state DMV to ask specific questions testing driver's license applicants' knowledge of the dangers of distracted driving.
It also would remove the secondary enforcement provision of the current California law prohibiting all cell phone use by drivers under the age of 18. That prohibits police from stopping young drivers if they're using cell phones unless another offense is observed.
Both elements were in the vetoed legislation of Simitian, the father of California's distracted driving laws who has since left the General Assembly.
California had been seen as a U.S. leader in electronic distracted driving laws until Brown's vetoes.
Brown last year did sign legislation closing a loophole that allowed drivers under 18 to use voice-activated technology to text while driving.
Previously, Brown approved a measure ensuring that motorists could text via hands-free devices. It was strongly opposed by safety advocates but seen as a pro-business measure. Frazier, D-Oakley, filed legislation in 2013 that would have removed that loophole, but later withdrew the bill.
Assemblyman Frazier represents the western Sacramento–San Joaquin River Delta, the same district that Simitian represented in the Senate.