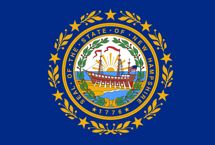 New Hampshire drivers won't be allowed to use handheld cell phones, but they have a while to get used to the idea.
Under an act approved by the legislature May 7, the ban goes into effect July 1, 2015.
In addition to barring adult drivers from holding their cell phones and talking, drivers under the age of 18 will be barred from all mobile phone use. (That provision takes effect upon enactment of the law.)
Fines begin at $100, increase to $250 for second offenses, and then top out at $500.
Update: Gov. Maggie Hassan approved the distracted driving measure July 25, saying the new law tackles "an increasing danger that we must address." /update
The state safety commissioner told lawmakers it was "the most-needed piece of highway safety legislation to come before you this year." One legislator called the plan a product of "a nanny state."
The sponsor was state Rep. Laura Pantelakos, who made previous attempts to get the handheld cell phone ban through the General Court. Pantelakos said she made her 2014 bill broad enough to cover many distracted driving concerns.
The original House bill envisioned a Jan. 1 start date, but the Senate wanted the delay until summer 2015. A Senate panel also added a requirement for public education. The House went along with the changes without debate May 7, sending the distracted driving measure to the governor.
New Hampshire's ban on text messaging went into effect in 2010. It only prohibited the writing of texts, however — a loophole closed by the upcoming law, which bars a host of activities related to Internet access by smartphones.
2014 distracted driving legislation received strong support from police, transportation and safety representatives, but there also was significant opposition along the personal-freedom lines.
House Minority Leader Gene Chandler said most drivers operated their vehicles safely: "We should be enforcing distracted driving laws as they stand, rather than ending the use of cell phones for everyone."
State police told a House panel that "as many as 28 percent of New Hampshire's fatal crashes related to distracted driving."