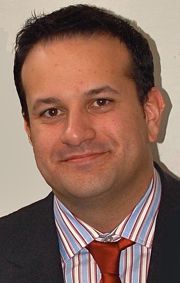 Those who text and drive in Ireland are out of luck. They're now facing some of the planet's toughest distracted driving penalties, with fines for first offenses topping out at 1,000 Euros — about $1,400.
The penalties, which took effect May 1, increase to a maximum €2,000 for a second offense. Three-time offenders are looking at €3,000 and a possible three months in jail (offenses within a year).
Offenders will have to show up in court, instead of taking roadside penalty points. The changes also apply to those "accessing information" (Web sites) via smartphones. The new fines do not apply to talking on handheld mobile phones, which remains a separate violation.
Transportation Minister Leo Varadkar, pictured, also eliminated whatever doubt there was about the illegality of text messaging while driving when he issued a regulation banning texting regardless of whether a hands-free device or phone cradle was employed.
"Removes legal grey area on SMS," he Tweeted on April 11.
Also in 2014, penalty points for mobile phone use increased from two points to three for a fixed charge and from four to five upon conviction.
The violation of holding a cell phone while driving is the No. 2 traffic offense in Ireland, officials said recently. A driver could be hit with the mandatory court appearance for texting as well as the points and fine for holding the mobile phone. The phone fine typically is €90.
The Irish AA says it's also possible to be ticketed in the nation for general distracted driving under a regulation that makes it an offense to drive "without reasonable consideration":
This covers razors, make-up, fumbling for cigarettes, carelessly using a coffee cup and thousands of other things besides. So a hands-free user could still be prosecuted if their actions mean that they are not concentrating on their driving.
Varadkar has said he wants to adjust road rules "to become the safest country in Europe." The Fine Gael party member (center-right) was appointed Minister for Transport, Tourism and Sport three years ago and has campaigned for stricter distracted driving laws since then.